Ocean Racing Technology takes to the track at Imola For the GP2 Asia Series season finale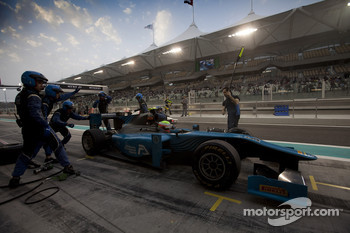 Oliver Turvey
The final meeting of the GP2 Asia Series 2011 will take place in Europe this weekend, at the Autodromo Dino e Enzo Ferrari, at Imola (Italy). The political and social upheaval in the Persian Gulf region that led to the cancellation of two GP2 Asia Series race meetings (as well as an F1 Grand Prix) forced championship organizers to move the season finale to Imola on March 18-20.
For Ocean Racing Technology drivers Oliver Turvey and Andrea Caldarelli, the experience of driving on the former F1 circuit will be a new one. The British driver is happy to be able to discover the mythical circuit that has left its mark on the history of auto racing. "I can't wait to drive at Imola. I have never been there, but it sounds to me like a great circuit. I think that we will be able to make better use of the data we brought back from Abu Dhabi and that we can aim for a good result," Turvey declared.
Andrea Caldarelli shares his teammate's enthusiasm, pointing out that this unforeseeable event at the start of the year will be a special challenge for him. "It's a bit like driving at home," Caldarelli said proudly, "I am very happy that the GP2 Asia Series and Ocean Racing Technology are racing at Imola. After the races at Abu Dhabi, this will be my second GP2 experience and I am totally concentrated on our objectives. I am eager to do a good job for and with the team. I think that we have the tools to make it a good weekend."
For Ocean Racing Technology, the GP2 Asia Series organizers could not find a better landing place for the finale, which will be a chance to gather additional data on the new car which saw its competition debut in Abu Dhabi. "After the Bahrein races were cancelled, we did not get a chance to drive, and the Imola meeting is excellent news because it will enable us to continue the development begun this winter," announced team general manager Jose Guedes, "It is a fast track and the data collected here will be very important."
The 3rd and 4th races of the GP2 Asia Series will offer a new chance to understand and optimize the handling of the Pirelli tyres that the championship is using this season for the first time. Free sessions and qualifying will take place Friday, March 18. The start of the first race will take place on Saturday, March 19th at 1:00 p.m. and the second will start the following day at the same time.
-source: ort