Monaco GP2: Vandoorne wins street fight with Rossi
McLaren junior driver Stoffel Vandoorne defeated Alexander Rossi for his third GP2 Feature Race victory from three races on the streets of Monaco.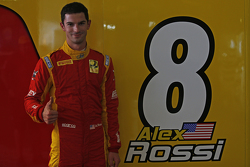 From pole position, Rossi (on soft tyres) lost the lead to the fast-starting Raffaele Marciello (supersofts) at Ste Devote, with Arthur Pic in third ahead of Vandoorne, who didn't make a great getaway, Sergey Sirotkin, Jordan King, Julian Leal and Sergio Canamasas.
Marciello led by 2.1s at the end of the opening lap as he sprinted away on his supersofts, but Rossi was already faster on laps two and three.
Supersoft-shod Jordan King passed Sirotkin on softs for fifth at Ste Devote at the start of the second lap, great progress from eighth on the grid.
Rossi was right on Marciello's tail by lap six, as his supersofts faded, but he stayed out. King was the first of the supersoft runners to pit from fifth, having been holding up a big queue of cars behind him, and he rejoined on a clear track.
Marciello pitted on lap seven, releasing Rossi at the head of the field, as Pic pitted a lap later and jumped ahead of Marciello through the pitstop cycle.
As Pic charged on his fresh softs in clear air, Rossi led Vandoorne by 1.2s at the end of the race's first quarter.
Two clumsy crashes then happened: Nobuharu Matsushita collided with Daniel de Jong at the Harbour Chicane, before Marco Sorensen was shoved into the barrier at Loews by Norman Nato. No safety car was required for either crash.
Vandoorne closed up on Rossi before half distance, the gap half a second between them, while Pic kept the gap to the leaders down to 25s.
Then the virtual safety car was required, as Mitch Evans hit Nick Yelloly at the Harbour Chicane, prompting Rossi, Vandoorne, Sirotkin, Leal, Canamasas and Stanaway to pit for supersofts – with a 20-lap stint a huge ask of the rubber.
Vandoorne beat Rossi out of the pits, just as the race was restarted, and pulled out a 3.4s lead in just one lap, but Rossi carved 2s out of that on the next tour and closed back to within half a second by lap 23.
Stewards investigated the release of both Rossi and Vandoorne, but decided no action was taken.
Leal, Pic, Canamasas and Sirotkin led the chase of Vandoorne and Rossi, with a 10s gap on lap 25 – but another quick virtual safety car was then required to recover debris from the run to Rascasse.
At the restart, Canamasas pulled a great move on Pic at Ste Devote to grab fourth.
With 10 laps to go, Rossi was right on Vandoorne's tail, who reported his tyres were holding up well. Rossi dropped away by a couple of seconds, and complained his front tyres were "running out".
Leal finished third on the road, but was penalised 10s for being released into the path of Sirotkin, who dropped to seventh after the collision. Leal was demoted to sixth, behind Sirotkin, after the penalty was applied.
Canamasas was elevated to third, ahead of Pic and Sirotkin. Leal was dropped back to sixth, ahead of Richie Stanaway, Marciello and King.
The race was twice delayed, as at the first attempted start  Matsushita lost oil pressure and, as Pierre Gasly hesitated to pass him, Stanaway got stuck trying to get around him, blocking the track.
The grid then required to be reformed, as stewards decided to remove Gasly from the grid and the race distance was reduced to 40 laps.
Race results:
| | | | |
| --- | --- | --- | --- |
| Pos | Driver | Team | Time/Gap |
| 1  | Stoffel Vandoorne | ART Grand Prix | 58m12.368 |
| 2  | Alexander Rossi | Racing Engineering | 6.292 |
| 3  | Sergio Canamasas | MP Motorsport | 16.726 |
| 4  | Arthur Pic | Campos Racing | 17.813 |
| 5  | Sergey Sirotkin | Rapax | 20.691 |
| 6  | Julian Leal | Carlin | 25.164 |
| 7  | Richie Stanaway | Status Grand Prix | 25.470 |
| 8  | Raffaele Marciello | Trident | 26.803 |
| 9  | Jordan King | Racing Engineering | 31.339 |
| 10  | Nick Yelloly | Hilmer Motorsport | 42.915 |
| 11  | Rene Binder | Trident | 43.837 |
| 12  | Daniel de Jong | MP Motorsport | 45.528 |
| 13  | Alex Lynn | DAMS | 46.824 |
| 14  | Pierre Gasly | DAMS | 47.666 |
| 15  | Robert Visoiu | Rapax | 49.290 |
| 16  | Rio Haryanto | Campos Racing | 51.085 |
| 17  | Nathanael Berthon | Lazarus | 52.135 |
| 18  | Norman Nato | Arden International | 1'02.735 |
| 19  | Marlon Stockinger | Status Grand Prix | 1'07.600 |
| 20  | Johnny Cecotto Jr. | Hilmer Motorsport | 1'07.999 |
| 21  | Andre Negrao | Arden International | 1 Lap |
| 22  | Zoel Amberg | Lazarus | 1 Lap |
| Ret  | Mitch Evans | Russian Time | -  |
| Ret  | Artem Markelov | Russian Time | -  |
| Ret  | Marco Sorensen | Carlin | -  |
| Ret  | Nobuharu Matsushita | ART Grand Prix | -  |
Monaco GP2: Vandoorne wins street fight with Rossi