Ilott hopes F2 debut springboard to full 2018 campaign
Callum Ilott says he hopes his Silverstone Formula 2 appearance can act as a springboard to a full-time campaign in the F1 support series in 2018.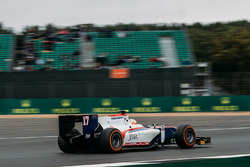 The British driver signed a last-minute agreement to fill Trident's vacant seat for his home race, following Sergio Canamasas' move to Rapax and Raffaele Marciello's one-off F2 return in Austria.
Having qualified 15th, Ilott was forced to start Saturday's opening race from the pitlane after stalling on the grid when the start was aborted, and went on to finish 19th.
The Prema F3 regular improved to finish 15th in Sunday's second race, which became 14th place when a 20-second time penalty was applied to DAMS driver Oliver Rowland.
Ilott said his experience of the GP2/11 car during a test outing with ART Grand Prix in Abu Dhabi late last year helped him on his debut race weekend, but admitted it was still a steep learning curve.
"On Tuesday [before the race] I found out I was doing it," Ilott told Motorsport.com. "On Wednesday we did the seat fit and I was basically here [at the track] until quite late, studying all the protocols.
"It was obviously a bit of a rush, it was quite pressured. In free practice I got only six or seven push laps in, you have to learn the car very quickly.
"Luckily I'd done the test in Abu Dhabi six months ago, so at least I already had a starting point even if it was on different tyres.
"It was one where I knew the track, so it made sense to do. I've got to learn at some stage, and what better way than racing at your home track?
"It's all good experience. For sure the results could have been better, but I've learnt a lot in a very short space of time, which was the aim."
Asked if his Silverstone debut made him confident of a full-time drive in 2018, he replied: "I hope so.
"It would be nice to, but we'll have to see at the end of the year. Other things might come around. But I'd be happy to do it, it's not so much of a jump now after this weekend."
Rear wing drama
Ilott also revealed that a damaged rear wing element hampered his qualifying efforts, and without the loss of rear grip he feels he could have started his first-ever F2 race from inside the top 10.
"In qualifying halfway through the lap the rear wing dropped down, and I lost 60kg of downforce on the rear," he explained.
"I was five tenths quicker [than my previous best] in the first sector and managed to maintain it in the second and third sectors. The rear [tyres] were destroyed because I was trying to hang on.
"The potential was to be in the top 10, and it was a bit annoying because I wanted to show what I can do. But deep down I know what I could have done."
The 18-year-old's performance left a big impression on Trident team boss Giacomo Ricci, who said he would be happy to give Ilott another chance with his F2 squad if the opportunity arose.
"It was great to run Callum this weekend," said Ricci. "Right from the start he was very calm and was committed through the whole weekend.
"He was aware of his limited F2 experience yet was quick in the fast corners. He is not afraid of anything! Ultimately, he was just very unlucky with the problems in the weekend.
"We'd love to see him back in the car."