Trident Racing press release
Trident Racing to line-up with Leal and Richelmi at Abu Dhab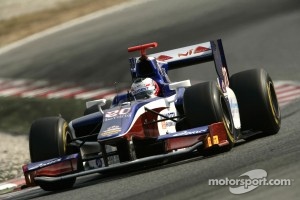 Stephane Richelmi,
The long 2011 GP2 Series season is about to reach its completion. Teams and drivers will be on-track at Abu Dhabi for a non-championship race in support of the upcoming Formula 1 Grand Prix on the 13th of November. All the 13 squads involved in the 2011 Main Series will be lining-up for the finale.
Trident Racing will be at Abu Dhabi with two drivers that have been evaluated in the latest rounds of off-season tests, Julian Leal and Stéphane Richelmi. Leal, who hit the track at Jerez, had previously entered the 2010 AutoGP with Trident Racing. Richelmi has already made his racing debut for Maurizio Salvadori and his team too, as he raced at Monza in the final round of this year's Main Series.
The weekend at Abu Dhabi will be unfolding like all the other Main Series ones. The Yas Marina track will be hosting practice and qualifying on Friday. Race 1 will take-off on Saturday, followed on Sunday by what is expected to be an exciting closing run of the 2011 campaign.