Adren International press release
Kral Storms To Eighth As Rain Wreaks Havoc On Spa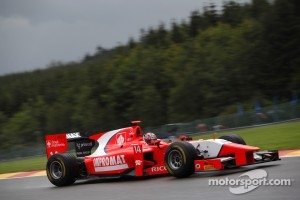 Josef Kral
Arden Dallara driver Josef Kral finished a splendid eighth in the first of this weekend's GP2 Series races at Spa-Francorchamps, Belgium.
From 15th on the grid, the Czech made tremendous early progress and completed the opening lap in ninth place. The race began in dry conditions, but a heavy downpour soaked most of the circuit just after half-distance. Most drivers took this as an opportunity to make their mandatory tyre change, pitting at the end of lap 14 for a set of wets. Kral gained one position during the stops, but rival Dani Clos (Racing Engineering) passed him soon afterwards, shortly before the safety car was scrambled in the wake of several incidents in the treacherous conditions. The race remained neutralised until the end of lap 23 – and Kral moved up to seventh on the road during this period, as the reduced pace was not enough to prevent some drivers slithering off the circuit. There was time for just one more lap when the race resumed and Kral remained seventh, although he was later docked one position for a procedural error behind the safety car – a penalty that ironically earned him pole position for tomorrow morning's sprint.
Only 16 of the 26 starters were still running at the end and Kral's team-mate Jolyon Palmer was among the casualties. Initially 21st, the Englishman moved up to 18th before retiring on lap 17.
Josef:

"I made a very good start and moved straight up to ninth, which almost became eighth when I drew alongside Fauzy at Eau Rouge. Things remained stable until the tyre stops, when I gained one position, but then Dani Clos passed me and I was unable to fight back because the safety car came out. It was very difficult keeping temperature in the engine when the rain was at its worst. The engine began to overheat behind the safety car and I was afraid I would not finish, but it held out and I secured another points finish. It's obviously good to be on pole tomorrow, so the target is simply to avoid any errors and obtain the best possible finish."
Jolyon:

"I lost time early on when Charles Pic and Luiz Razia crashed in front of me, but I was able to claw back a few places. I was pleased with my consistency, but then the rain came and made life awkward for everybody. The car felt OK after I switched to wets, but my engine unfortunately ingested some water and I lost power, so was unable to continue. We will study the data to see where we can make a few improvements and I'm looking forward to a stronger race tomorrow."