The World Series by Renault 3.5 team will attack 2014 with two young talents.
Team Lotus announces that 22-year old Marlon Stockinger from the Philippines and 19-year old Frenchman Matthieu Vaxiviere will race for the Czech team in the 2014 Formula Renault 3.5 season.
Prague-based squad, which enters to its fourth season in the prestigious Formula Renault 3.5 Series championship, will defend the seventh place in the Team´s classification and two race victories in 2014. The team will also run Lotus F1 Team livery for the third consecutive season.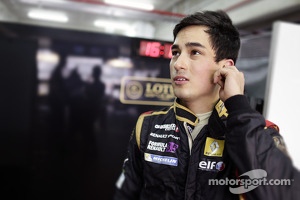 Marlon Stockinger
Marlon Stockinger continues with Lotus in the Formula Renault 3.5 Series for the second year in a row as he made his debut last season. The Manila-born driver will try to build on the progress he made in the second part of 2013 season and aims to fight for the championship this year. Stockinger, who became the first Filipino driver to drive an F1 car last year, also remains a member of the Lotus F1 Junior Team.
The young French driver Matthieu Vaxiviere will race for the first time with Lotus in 2014. Vaxiviere had a successful Eurocup Formula Renault 2.0 campaign last year as he celebrated two victories during the 2013 season.
This year´s Formula Renault 3.5 Series season will feature nine rounds, including the race in the streets of Monte Carlo during the Monaco Grand Prix weekend. The first official collective test will take place at Motorland Aragon on the 25th February and the racing season will kick off on 12th April at the famous Italian race track in Monza.
Marlon Stöckinger: "It is really great and positive to be back with Lotus and to prepare together for the upcoming season! My aim for 2014 is to win races and I will do my best in order to fight for the championship. I have been working very hard during the off-season to be ready for this challenge. I was a rookie last so I made a few mistakes, but now I am more experienced and I will try to make the most out of it."
Matthieu Vaxiviere: "I am really happy that I was given such a great chance to be a part of this team. I tried out the Formula Renault 3.5 car already last year and I liked the car very much. My goal for the upcoming season is to be best rookie of the season and in the overall standing I would like to finish in the top 5."
Bob Vavřík, team manager: "I am quite confident that our team will be strong in every aspect this year. We have been working and training hard during the winter and we did not underestimate anything. Both our drivers have been already testing at the simulator and we will move to the race track as soon as the first pre-season test will take place at the end of February. Marlon will race with us for the second season. I believe that he will use the experience he gained during last season and I expect him to fight for victories. Matthieu is a rookie, but he had a very good season in Eurocup Formula Renault 2.0 so we believe that he will be competitive straight away."
Charouz Racing System