A race incident prevented Arthur Pic from bagging a very good result.
The third and final day of the Budapest F.Renault 3.5 weekend was a bittersweet one for AVF: after today's performances the team heads back to Spain with a further proof that the technical staff is delivering a top-notch job, but at the same time it's impossible to hide the disappointment for a race incident that prevented Arthur Pic from bagging a very good result, a 4th place that would have been very much deserved.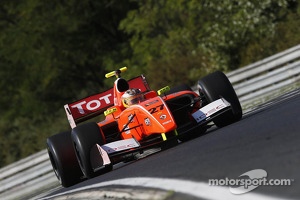 Arthur Pic
The day started on a positive note as a warm sun replaced the rainy clouds that had soaked the track yesterday. Anyway, the track was still green due to yesterday's showers and Qualifying proved to be very tricky as cars and drivers struggled for grip.
In such difficult conditions Pic managed to post the 5th quickest time, while Yann Cunha couldn't find a clean lap and closed the session in P25, meaning Row 3 and 13 respectively on the grid for Race 2.
Grip conditions were better for the race and Pic's getaway was lightning quick, allowing him to enter Turn 1 in 4th place. The Frenchman's pace was good enough to build a little gap to the rivals behind him and P4 seemed safe when the team decided to call Arthur into the pits for the mandatory pit-stop.
The tyre change was flawless, but when Pic got back on track he tangled with Melker, damaging his front left tyre and being forced to stop trackside. Yann Cunha, on the team other's car, had a good start and drove a mistakeless race, but on a track where overtaking is deemed a nearly impossible task a recovery to P21 was all he could manage starting from the back of the grid.
Arthur Pic (Q2 - P5; R2 - DNF): "I'm really disappointed. My car felt immediately good in qualifying, and P5 was a very good starting position. It allowed me to jump to P4 at the start, and given my pace I'm pretty sure that nobody was going to challenge me for that spot.
Unfortunately when I exited the pits Melker was coming from behind, I couldn't see him and as I entered the corner we made contact. The car was too damaged to continue, and I could do nothing but park it trackside. Race incidents happen, but it's still hard to accept".
Yann Cunha (Q2 - P25; R2 - P21): "It was a really difficult day for me. I didn't feel at ease with the car, I struggled for grip all the time and in qualifying I also found some traffic. The race was just as tough because there's nothing you can do when you start from the back on such a track. It's a pity, but Paul Ricard has a very different layout and I'm looking forward to it".
AVF