Arthur Pic: "That's when Nigel appeared from nowhere on my left. I didn't have time to react and my front left wheel touched his right rear."
Arthur Pic again showed front-running pace but ultimately ended up leaving Hungary with little to show for his efforts after a frustrating Formula Renault 3.5 Series round at the Hungaroring last weekend (September 14/15).
Not for the first time this season the Frenchman fought back from a lowly grid position at the start of Saturday's race to rescue a points finish, before then seeing his hard work and a possible podium come to nought on Sunday.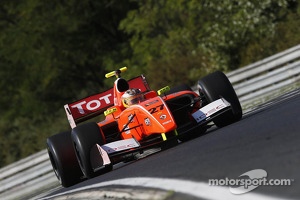 Arthur Pic
Pic was one of several drivers to be caught out by the treacherous conditions during Saturday morning's qualifying session with a spin leaving him stranded in the gravel. That ensured the AV Formula driver was unable to build on Friday's practice form and would start the afternoon's race from 24th.
So wet was the track for the weekend's first 44-minute plus one lap race that organisers opted to run the opening five laps behind the safety car. But when racing finally began in earnest, Pic was quick to atone for his uncharacteristic qualifying error and showcased his wet weather prowess by jumping up 10 places in just three laps.
While some drivers struggled to keep their cars on track, the Frenchman continued to gain positions and by lap 20 had moved into the top 10. That would become ninth on the final tour when a rival ahead succumbed to the conditions, giving Pic a hard fought two points.
With the track remaining dry for Sunday morning's qualifying session, Pic was again out to impress and duly lined up fifth for the weekend's second race.
A strong start immediately helped him pick up a place before a safety car period kept the field bunched for a number of laps. When racing resumed Pic was able to stick with the top three – all of whom are challenging for this year's championship – before the mandatory pit-stops began just after half-distance.
Pic was the last of the frontrunners to stop on lap 13 when good work from the AV Formula crew looked to have helped maintain his fourth place. But as he re-joined the circuit and turned in to the slow right-hand first corner, a fast approaching Nigel Melker attempted to pass around the outside. Pic, whose car had lost its left mirror on lap two, was unable to see the Dutchman until it was too late, resulting in a touch of wheels that caused terminal suspension damage.
Arthur Pic: "It's been a rollercoaster weekend for me and the team. The weather was pretty atrocious on Saturday but I learned my lesson from qualifying, got my head down and came away with a good result in race one considering my grid position. Had I started from a representative position I think we could have finished in the top four or five. It was also very encouraging to see how much progress the team has made in the wet.
"Then on Sunday we were back at the sharp end fighting for the sort of results we've been capable of all season. It's very unusual to have a mirror fall off so I was quite surprised when it hit me on the helmet! When I left the pits I knew there would be a chance another car could be attacking down the outside, so I stayed right, which compromised my line but at least meant I would hold the inside through Turn 1. That's when Nigel appeared from nowhere on my left. I didn't have time to react and my front left wheel touched his right rear. It wasn't heavy contact and he was able to carry on, but it bent my suspension and that was that."
The penultimate round of this season's Formula Renault 3.5 Series takes place at Paul Ricard in France on September 27-29.
Arthur Pic