The DRS on car no. 20 was judged not to comply with the regulations.
At the finish of the race after which Kevin Magnussen had a 46-point lead, in other words he was just five points away from the title, one of the Renault Sport scrutineers made a point of asking to check the flap of the DRS on car no. 20.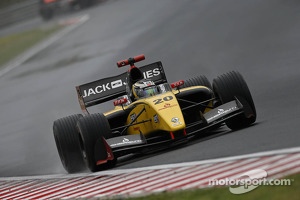 Kevin Magnussen
After inspection this element was judged not to comply with the regulations. Since the 2012 season after permanent consultation with the Renault Sport Organisation DAMS has been using the same DRS flap. Even though we supplied emails as proof of our technical discussions with the Renault Sport management on this subject the stewards nonetheless maintained their decision.
DAMS is appealing against this decision as the paint on the flap was agreed by Renault Sport without any additional clarifications on the quality of the paint to be used. During these discussions with Renault Sport DAMS put forward suggestions to avoid any form of interpretation on this point.
DAMS has taken due note of this decision and remains more determined than ever to win the 2013 title in the Formula Renault 3.5 Series.
DAMS