No Formula 1 season would be complete without a good London Grand Prix story, but this year the speculation about plans for a street race around Britain's capital have come early.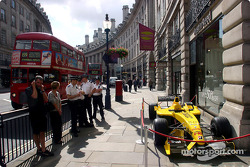 For the sport's supremo Bernie Ecclestone has stirred the pot by suggesting that a race could happen as early as 2017.
Plans for a street grand prix – perhaps around Hyde Park and taking in some of London's great sights – are certainly nothing new and have been swirling around since the 1970's.
But despite the rumours being an ever present, the only F1 action on the roads of London was back in 2004 when teams put on a spectacular demonstration down Regent's Street.
Mayor impact
This time around, the renewed speculation has come about not because there is a promoter pushing for a plan, a track design having been lodged nor a backer having been found to bankroll the whole thing.
Instead, they have come directly from the sport's ringmaster Ecclestone, who is never a man to miss an opportunity to fuel a spectacular headline.
In the wake of the London mayoral contest, Ecclestone was asked by ITV News if the new administration would help ease a London Grand Prix.
His response: "Next year if it's possible. There is a small technical issue, who is going to pay for it, but other than that I can't see any dramas.
"[A race] in the middle of London would be fantastic. I mean we're having the same sort of thing in Baku now and like in Monaco. Street races have become very popular. We'd have a lot more viewers than they do in Monte Carlo."
Money man
The hurdles to a grand prix on the streets of London are less than they were a few years ago, thanks to the Deregulation Bill which allows a framework for running races on closed public roads without the need for a costly Act of Parliament to suspect the Road Traffic Act for each event.
But that is only one element and, like many things in F1, the devil is in the detail.
If you read Ecclestone's comments carefully they don't actually move the story forward very much - if at all.
For the key line is buried very deep, about the 'small' issue of 'who is going to pay for it'.
That remains the crux of the issue and it is fanciful to suggest that plans for a London Grand Prix will be moving anywhere further than news stories unless someone with tens (or even hundreds) of millions of pounds is willing to start digging in to his own pockets.
With classic races like Monza under threat because they are not willing to pay the money that Ecclestone wants to do a fresh Italian Grand Prix contract, there is no chance of him wasting much effort on a London street plan unless there is proper finance behind it.
And check out the little dig at Monaco at the end of his remark? It will not go unnoticed that Monte Carlo does not pay any rights fees to host its annual F1 event..
Still a dream
Of course Ecclestone would love a London Grand Prix, as long as it cost him nothing and added funds to FOM's coffers.
Getting £100 million in the bank as soon as next year for a street race around London that would grab the world's attention like few other sporting events would be a dream come true.
And of course find someone willing to chuck billions Ecclestone's way, and he will certainly be able to remove all obstacles to the race happening.
But to suggest that this is a 'small' issue is slightly tongue in cheek.
So for now – just like plans for street races around New York, San Francisco and maybe even Las Vegas – however much people dream of good things happening, reality has to bite some time.
There is not the funding, the will nor the infrastructure for London to put on an F1 race in such a short time frame: and just look at the political battles that Formula E have faced for a two-day event around Battersea Park.
And however must we would all love to see Lewis Hamilton, Fernando Alonso and Sebastian Vettel battling wheel-to-wheel past Buckingham Palace, sadly it's going to remain a fantasy for many years to come.