By Berthold Bouman, F1 Correspondent
It was Lewis Hamilton this time who for the third time this season defeated the Red Bull team during the German Grand Prix at the Nurburgring, and what should have been a triumph in front of his home crowd, became a disappointment at best for Sebastian Vettel. For the first time since the 2010 Korean Grand Prix, where he had to abandon the race due to an engine failure, the 24-year old German was not able to land a podium position.
Lewis Hamilton celebrates his German GP victory
He was in fact lucky that Felipe Massa's Ferrari pit crew was considerably slower than his Red Bull pit crew during the final pit stop of the race, which meant he could finally overtake the Brazilian in the pit lane. "As I came out it was nice to see the Ferrari still stationary -- that was all down to the boys, they did a very good job. Both Felipe and I were battling for a lot of the race and we were both on the edge," Vettel commented.
Hamilton proves his critics wrong


Hamilton scored his 16th career win on Sunday, a victory he needed as he had been criticized for his driving style for the last four races. He had collisions with Massa and Pastor Maldonado during the Monaco Grand Prix, and during the Canadian Grand Prix crashed after seven laps while trying to overtake team colleague Jenson Button, who ultimately won the race. The next two races at Valencia and Silverstone he delivered two fourth places, but not the kind of performance one can expect of a world champion.
But in Germany Hamilton showed he had not yet given up on the title this year, he surprised friend and foe with an excellent second place during qualifying, and was just 0.055s slower than pole sitter Mark Webber. On Sunday when the lights turned to green, the Briton pulled off a rocket start and took the lead from Webber at Turn 1, who once again had slight problems to get his car of the starting line.
But Webber gained on Hamilton and on lap 12 the Australian took the lead, but Hamilton fought back and took his leading position back again at Turn 1. He lost the lead again after his first visit to the pit for fresh soft tyres and rejoined the race in second place. This time he was also chased by Fernando Alonso in the Ferrari, but after the second round of pit stops Hamilton was leading the race, followed by Alonso and Webber.
Like Alonso and Webber, Hamilton tried to stay out as long as possible on his last set of softs, as all teams knew the medium Pirelli tyre compound was at least one second per lap slower than the softs, and none of the three leaders wanted to be the first to make the last mandatory pit stop for the medium tyres. But Alonso got closer and closer to the McLaren and Hamilton and his team decided to made the final pit stop on lap 51 and he rejoined the race in third position, now with Alonso and Webber ahead of him.
The top-three captured in one image, Hamilton, Alonso and Webber
Two laps later Alonso made his final stop, but could not, as he and his team had hoped, make a super fast stop to get ahead of Hamilton. It was now Webber who was leading the race, while Alonso was dicing with Hamilton for second place. The Australian made his final stop with only four laps to go, lost the lead once again and rejoined in third place. But with only four laps to go, the leading trio ran out of time, and the order remained as it was when a deliriously happy Hamilton crossed the finish line in first position.
It was a great win, but also one of the most intense fought battles for the victory this season, with Hamilton, Alonso and Webber dicing for position during the whole race, and sometimes not more than a few tenths of a second between the three.
"Every win is special -- but with all the emotion, effort and energy the team put into today's victory, this one feels even more special than usual," Hamilton said with a big smile. He also referred to his overtaking critics, and hinted he had now found the balance between aggression and not making silly mistakes, "Driving lap after lap within tenths of each other was about trying to do everything as perfectly as possible -- yet, being aggressive yet controlled, I felt the moves I made today were some of the most precise I've ever pulled off Being able to drive with your head as well as your heart, and getting it just right, is massively satisfying!"
Although cautious, Hamilton remained optimistic about the rest of the season, "The fight for the world championship will be very, very, very hard now. We're back in the fight though, and I really hope we can carry this forward and keep the momentum going."
It was a gripping race, real edge-of-the-seat stuff
Team principal Martin Whitmarsh commented, "It was a gripping race, real edge-of-the-seat stuff, with all three teams involved operating at the top of their form. When that happens, the victory is particularly hard-won -- and mighty satisfying too." He praised Hamilton using words in a way only Whitmarsh can, "I reckon his 16th Grand Prix victory was one of his very best: a scintillatingly authoritative performance that all too clearly underlines what a fearsomely competitive individual he is."
As for his team colleague Button, the race once again turned into a disaster, after the 2009 champion left the pit lane in Silverstone with only three wheels securely attached to his car, he again experienced technical problems at the Nurburgring. Button was called back to the pit after this team found a hydraulic problem, had to park his car and became a spectator for the remainder of the race.
Needless to say he was utterly disappointed, "I'd just overtaken Nico [Rosberg] for sixth when my power steering started to get heavy. Soon after, we retired the car on safety grounds because we had a hydraulic issue. It was a very disappointing end, but these things sometimes happen in motor racing and you just have to put it behind you and move on."
Ferrari back where they belong


Also a good weekend for Ferrari, who apparently have found the leak after a thorough aerodynamic update they introduced at the British Grand Prix, which enabled double world champion Alonso to take victory at Silverstone. The question for the Maranello-based team was whether his win was a stroke of luck, or the result of the hard work the engineers had been doing in the wind tunnel.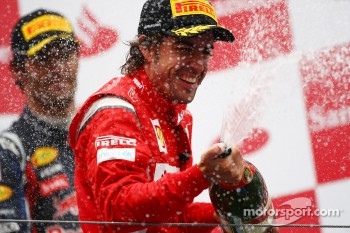 Ferrari
back where they belong, Alonso celebrating his second place
During qualifying Alonso and Massa took fourth and fifth place respectively, perhaps not an achievement to write home about, but certainly a good base to start the race. Alonso had already warned his rivals a pole position is no longer a guarantee for victory due to the many factors that seem to determine the outcome of a race this season, which he duly demonstrated at Silverstone.
But it wasn't an easy assignment for Alonso, before the German Grand Prix he was 92 points behind Vettel, and Red Bull led the championship with 328 points, twice as many as Ferrari, who were third with 164 points. Nevertheless neither Alonso nor Ferrari President Luca di Montezemolo had given up on the title, and Ferrari was optimistic ahead of the German Grand Prix.
Both Ferrari drivers were engaged in several heroic battles during the race, Alonso had a better start than Vettel and cheekily maneuvered his Ferrari ahead of the Red Bull, taking third position just before Turn 1. Not for long, as the German regained his third position again on the second lap after Alonso ran wide on the still damp circuit. But Alonso kept pushing Vettel and on lap eight surprised him yet again at Turn 1 to take third position.
Alonso kept pushing hard and soon arrived at the tail of Webber's Red Bull, and overtook him on lap 14. After his first stop he was third again, this time behind Hamilton. After the second round of pit stops, both Hamilton and Alonso got passed Webber, while Massa was now fourth, with Vettel chasing him. But Massa was faster than the Red Bull and although Vettel at moments came close to overtaking him, the Brazilian did an excellent job in keeping the Red Bull behind him, a fight that lasted until the last lap of the race, and Massa had to check his mirrors in about every corner to see where Vettel was.
Both drivers waited to the penultimate lap of the race to make their final pit stop, but unfortunately for Massa, his stop lasted way too long and only one lap shy of the finish line lost his fourth position to Vettel. "Sure, I would have preferred to have stayed ahead of the world champion right to the end, but at the final pit stop there was a problem with the wheel nut on the left rear which cost me a few seconds: these things happen and recrimination achieves nothing," Massa explained.
Massa lost fourth place to Vettel during his last pit stop
The fight between Massa and Vettel was the main reason why the top three drivers managed to pull away from the rest of the field. Alonso's second stop was fast, he came out ahead of Hamilton, but could not match the McLaren's pace. "I had absolutely no grip and he managed to pass me round the outside: immediately he then built up a few seconds lead," Alonso said after the race. And added, "Today, Hamilton was quicker and so well done to him and his team: when I was behind him I was pushing as hard as I could, but I could not get very close."
During the final stop the order changed once more, Hamilton was leading, followed by Alonso, and Webber was this time the one who had to admit defeat and had to settle for third place, and that was the same order they finished in. All-in-all not a bad day for Ferrari. "After a second place like this, it's easy to say that it could have been better, but I am pleased nevertheless," said Alonso. He was certainly satisfied with the pace of his Ferrari, "Today, we were clearly superior to the Red Bulls in terms of performance and this is important, given where we were at the start of the championship."
More than a bad day?


It was not just a bad day for the 2010 champion, as it seems he felt not comfortable in his by Adrian Newey designed RB7 all weekend and complained his car was not 100 per cent right. Vettel qualified third on Saturday, which was in fact his worse qualifying result of the season, and also for the first time of the season didn't start the race from the first row. He was jumped by Alonso at the first corner after the start, and although he got his position back a lap later, he was put under pressure by the Spaniard who again took him by surprise a few laps later at Turn 1, and Vettel was back in fourth position again.
Now he had Nico Rosberg and Massa behind him, and again the pressure Rosberg put on him forced him into a mistake and Vettel spun after he had put his rear right wheel on the wet artificial grass, a mistake he also made in Canada, which cost him the victory. He then got 'stuck' behind Massa's Ferrari who did an excellent job in keeping Alonso's main rival behind him. He only could overtake the Ferrari in the pit lane during the last pit stop, so he in fact won this battle thanks to his pit crew.
Just a bad day for Vettel, or was there more to it?
Vettel about his troublesome weekend, "I didn't feel good all weekend and didn't have the pace that Mark did in the car. It was tough, a difficult race. In the beginning, it didn't feel so bad but I made a mistake, which brought me back to fifth and from there it was a tough recovery." And added, "We had a problem mid-race with the brakes, but we managed it well, so we can be happy with the recovery we had from that." But he acknowledged his rivals were just faster this weekend, "I think fourth was the maximum we could achieve today -- it's not satisfying, but you have to accept that others were quicker today."
Webber again couldn't capitalize on his pole position and at the start lost his first place to Hamilton. "He got a good start and mine wasn't so good, but the starts aren't key to the race finishes this year," Webber said. The Australian's luck changed several times during the race, he led the race during 17 laps, but also faced the fact Alonso and Hamilton were faster, whatever he tried, he could not close the gap to Alonso during the last part of the race. "I drove on the limit, but we were not quick enough and that was it. Lewis [Hamilton] was able to cover us all the time and respond to my pace, so you couldn't get the gap. I did pretty much everything I could today -- it was very intense racing between the three of us at the front."
Red Bull team principal Christian Horner admitted the German GP was a wake-up call, but refused to call this weekend a major setback, "We have managed to be competitive at many, many different types of track. We have had pole position at every single GP this year; we have won six out of 10 and been on the podium at every single race, so it is far from a disaster." And added, "But for sure this race is a reminder that we cannot back off, and not any member of the team is backing off at the moment. Everybody is pushing flat out."
Horner was optimistic the next race will deliver a better result, "You are always learning, always looking to move forward, but the one thing Red Bull has consistently done is be able to run at the front this year. We will for sure look to learn lessons from this weekend, and the next GP will be in different conditions probably. It is probably going to be another 20 degrees hotter."
Realistically speaking the end result wasn't that bad after all, Vettel only lost 3 points of his lead in the championship to his nearest rival, his team colleague Webber, and Red Bull is also still in command of the Constructors' Championship, 112 points ahead of McLaren. Nevertheless Webber urged his team to take action, "We need to improve the car on Sundays. It's been brewing for the last two races, we need to address it soon. The last two races we've been done and we've not had much to punch back with. This is the second race we've been beaten. Is it the form for the second half of the championship? It's difficult to say. We're going to a track next weekend which should be better than this track for us."
How did the Germans do in Germany?


With six German drivers this season, the German fans were of course mostly interested in the performance of their German heroes. Vettel was the fastest German, but the fans were a bit disappointed 'der Sebastian' couldn't win the race. The second fastest driver was surprisingly Force India driver Adrian Sutil, who recorded his best result of the season and scored eight points by finishing in sixth position.
Adrian Sutil, here getting ready on the start grid ahead of the race, scored a well-deserved sixth position
Everything went right for Sutil, he qualified in a promising eighth place, and made no mistakes during the race. At the start he immediately overtook Button, and stayed right behind Massa until the first round of pit stops. His team had worked out a two stop strategy which meant he had to race the last part on the slower medium tyres. After his first stop he got stuck behind Rosberg, but thanks to a perfectly executed second stop, he got ahead of his compatriot.
" It was a great race today and I'm so pleased to get this result for the team because we really deserved it. We had a great car all weekend and everything just went perfectly," a smiling Sutil said. "The tyres lasted well and we definitely made the right calls with the strategy, which helped me beat Nico [Rosberg] in the final stint," he explained. "To get this result in my home race also makes it extra special and I'd like to thank the fans for their support this weekend."
Number three on the list of German drivers is Mercedes driver Rosberg, who again outpaced his team colleague seven-times world champion Schumacher. During the first part of the race he was in fifth place, but lost that place to Massa who was clearly faster. After his second stop he battled with Sutil, a battle he lost. He got ahead of him again after Sutil made his second and last stop, but lost that place once more to Sutil when he steered his Mercedes in and out of the pit lane for his third and final stop.
"I had a good start to the race today and made up one position on the first lap to be running in fifth place," the son of 1982 world champion Keke Rosberg said. "However I didn't have a perfect set-up today and the car wasn't working quite as well as in qualifying. I had some good battles with Massa but despite pushing hard, it was impossible to keep him behind me," he declared later. In the end he reckoned his performance wasn't al too disappointing, "Seventh place is ok but we know that we have some work to do to maximise our latest upgrades in the race," he said. Rosberg will be looking forward to the Hungarian Grand Prix, as he will celebrate his 100th Grand Prix at the Hungaroring.
Rosberg, here with Schumacher, will celebrate his 100th Grand Prix at the Hungaroring
Number four on the list is Schumacher, who did have a promising start of the race, but his first stop didn't work out too well, and he was behind Rosberg for several laps. Seven-times world champion or not, he nevertheless made the same mistake Vettel had made before him, and at the same spot as well. Schumacher also hit the artificial grass, spun and although he only lost two positions, he had lost a lot of time and he would never recover, and finished in eight position behind Rosberg.
"My spin caught me by complete surprise, but that spot is known to be tricky in wet conditions, even if the conditions were not so wet today," Schumacher admitted. "It was a pretty exciting race today with lots of action for both the spectators and the drivers. All in all, I am ok with the race. With the little improvements we have made, we can look forward to Hungary now," he concluded his comment.
Timo Glock is the fifth German who finished the race, albeit 3 laps behind the leader, but at least finished the race, which seems to be the main target for the struggling Marussia Virgin team this year. Glock celebrated his announcement to stay with the Anglo-Russian team 'for the foreseeable future' with an 17th place, but it had been a difficult race for him. "It was quite a difficult race today, I struggled with the braking system from the middle of the race onwards and I wasn't able to push late on in the race, so we have to look into the problem," he reported after the race.
Number six on the list did not finish the race in front of his home crowd, but instead landed in the gravel trap at the Veedol chicane after being pushed onto the grass by Toro Rosso driver Sebastien Buemi, who probably forgot to check his mirrors. Heidfeld already had an encounter with Force India's Paul di Resta during the opening lap of the race, both spun and after their recovery both gentleman found themselves at the back of the grid, on 23rd and 24th place, which meant their chances for a decent finish went up in smoke.
Heidfeld worked his way up to 16th place, but on lap nine when he was about to overtake Buemi, disaster struck once more, the Swiss driver didn't even see him and the German ran straight into the back of the Toro Rosso when Buemi moved to the right. His Lotus Renault was launched over the rear of Buemi's car, flew a few meters through the air and finally landed in the gravel trap, and was in fact lucky his car didn't roll through the gravel.
Heidfeld flies after hitting Sebastien Buemi's Toro Rosso
"I came up behind Sébastien (Buemi), who covered the left hand side on the way into the chicane, which was perfectly fine. I turned right to overtake him and after that he turned right as well, pushing me into the grass. Unfortunately I then took off and had a crash," Heidfeld reported after he had returned to his team.
As usual, when two drivers collide, they both have their own version of the events, and Buemi who ultimately finished 15th, had a 'slightly' different recollection of the crash. "Heidfeld drove into me at the chicane and I got a puncture on my right rear. So I had to pit and change tyres, which compromised our strategy even more and with no rain, that was really it," he said. However, the FIA Stewards, with this time eight-time Le Mans winner Tom Kristensen representing the drivers, ruled Buemi was to blame for the accident and imposed a five-place grid penalty for the Hungarian Grand Prix.
More drivers' notes and quotes


Other drivers who performed well at the Nurburgring were both Sauber drivers Kamui Kobayashi and Sergio Perez, they finished in ninth and 11th place respectively, thanks to a two stop strategy, by now the trademark of the Sauber team. "I had been 17th on the grid and was in 12th after the first lap. But then it was difficult because our pace just wasn't good enough here. The fact that we have scored points is down to a very good pit stop strategy, I want to thank the team for an excellent job," Kobayashi said.
Perez was not at all happy with his performance, but blamed himself, "I am angry with myself because I made a mistake on lap eight. I went off and was on the grass. This was why I had to pit early and change tyres. This obviously was not what was planned in the strategy. We recovered a bit from there, but not enough for points, which were my aim."
Vitaly Petrov in the second Lotus Renault crossed the finish line in tenth position, after he had been engaged in battles with Schumacher, Vettel, Perez, Rosberg and Kobayashi. The Russian is worried other teams are gaining on Lotus Renault, "What's noticeable is there are other teams beginning to compete seriously with us, such as Force India and Sauber, so we need to take the initiative and make a significant step forward to stay ahead of these guys."
Vitaly Petrov making life difficult for Nico Rosberg
Jaime Alguersuari finished in 12th position and was also worried about other teams catching up with Toro Rosso, "Our pace was not as good as at Valencia or Silverstone and I was struggling a bit under braking. On the plus side, our strategy was good and the team worked well at the pit stops. At least we finished ahead of one of the Force India cars."
And Alguersuari was referring to Scot di Resta, who after his escapade with Heidfeld finished in 13th position. "I got hit from behind, which must have been Nick [Heidfeld], and that spun me around and compromised my race. It's a shame because we came here with a great package and we had a good strategy for the race," a disappointed di Resta said.
Not disappointed was Pastor Maldonado, who was the sole Williams driver to cross the finish line on Sunday, as Rubens Barrichello had to park his car in the Williams garage with an oil leak after completing 16 laps.
Heikki Kovalainen was the fastest of the Team Lotus drivers, and finished in 16th position, while Karun Chandhok, who made his race debut for the Malaysian team, finished in 20th and last place. Not impressive, but the Indian thinks he still has to learn about the new Pirellis, "That's a full race distance completed and an awful lot of learning under my belt. Honestly, that probably wasn't the race I wanted -- I had a couple of high speed spins and I think I need more time to get used to the tyres."
Belgium Jerome d'Ambrosio was 18th, but was optimistic after he had been struggling with the Marussia Virgin during the last races, "I feel like I'm back on the right track and although there's definitely more improvements I can make, particularly in qualifying, I'm going in the right direction."
HRT driver Italian Vitantonio Liuzzi had to abandon his race after 37 laps with electrical problems, but his team colleague Daniel Ricciardo finished in 19th place, three laps behind winner Hamilton. It was the second Grand Prix for the talented Australian, and he knows he still has a lot to learn. "It's quite a steep learning curve but I think I've climbed a little bit of that this week. If I can keep this way then I'm sure that in a few races time the progress will be more obvious by, hopefully, finishing a few positions further up," he remarked.
Pit lane complex at the Hungaroring
Next stop before the summer break: Hungary


Without a doubt the German Grand Prix was one of the most thrilling races of the season, and as said, with one of the most fiercely fought battles for the victory, just five laps before the end of the race the top three, Hamilton, Alonso and Webber all had still the chance to win the race. It was also a true overtaking spectacle, a joy to watch from a spectator's point of view.
For the first time this season Red Bull was not in command of the race, and with the season now at its half-way point, McLaren and Ferrari still have a few mountains to climb, as Vettel is still leading the championship with 77 points ahead of Webber, who has now Hamilton. who in his turn is five points behind the Australian, chasing him for second position in the championship, while Alonso is still fourth, 86 points behind the leader.
The Hungaroring is an altogether different circuit, Williams commented the circuit is the same as Monaco, but then with run-off areas. It is indeed a tight and twisty circuit, with two straights that are not even worthy of the name 'straight'. Although BBC commentator Martin Brundle reported it was pouring when he arrived there on Monday, it is expected it will be a long and hot Hungarian Grand Prix.
German GP Full Results and current Championship Standings