Vettel admits lack of pace down to him, not car
Sebastian Vettel says his lack of pace in practice for the Azerbaijan Grand Prix was down to him not being up to speed rather than anything wrong with his Ferrari.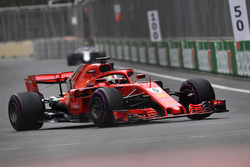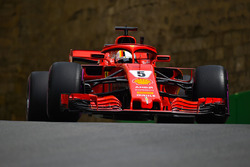 The German was 10th and 11th fastest in the two practice sessions in Baku, prompting suggestions that his team had gone the wrong way with its car.
But Vettel put his hand up and admitted that the lack of a decent place on the timesheets was down to him not finding his limits quick enough.
"This place is a little bit tricky to find the rhythm, it is not so easy," he said. "This morning I didn't find it and at the beginning of the second session I wasn't up to speed.
"But I was pretty happy with the long run in the end so it is okay."
He added: "I think the car is fine. As I said, I didn't get the laps together. It can happen very easily here with little mistakes here in braking – but the long run was a lot better.
"We can improve the car a lot for tomorrow and then we should be okay."
Kimi Raikkonen elected to sit out most of first practice to make set-up changes to his car, while in the second session he was second fastest behind Daniel Ricciardo.
Vettel admits lack of pace down to him, not car