Vandoorne feels "more comfortable than ever"
McLaren's Stoffel Vandoorne says he has "come into my own" as the 2017 Formula 1 season has progressed and now feels more comfortable in the car "than ever before".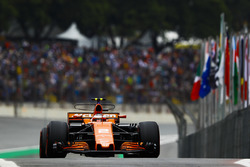 On earning promotion to the race seat for 2017, Vandoorne did not escape Q1 in any of the first five races and struggled to make an impact in the opening half of the year.
But a change in his driving style, combined with what racing director Eric Boullier described as "hard work, trust, confidence and talent" has helped him turn things around.
At the start of the season, Vandoorne's supertime - the fastest lap from any session over each grand prix weekend converted to a percentage with 100 percent representing the outright fastest - was 1.439 percent adrift of Alonso. After 19 races, that gap has reduced to 0.423 percent.
"This year has been full of ups and downs for us," said Vandoorne, ahead of this weekend's season-ending Abu Dhabi Grand Prix.
"I had a difficult start to the year, but as the season has progressed I've worked really hard with the team and feel that I've come into my own.
"I'm more comfortable in the cockpit now than ever before, and my rate of progression over the second half of the season has been very satisfying.
"It's been a challenging year, but ultimately a rewarding one because I've learned a lot, and I can't wait to see what next year will bring."
Vandoorne is currently 16th in the drivers' standings on 13 points, two points and one place shy of Alonso with one race to go, with McLaren ninth in the constructors' championship.
It has been a challenging year for McLaren, which will part ways with engine supplier Honda to embark on a new partnership with Renault from next season.
"I'm proud of the battles we've fought and the achievements we've made as team this year, despite the lack of results and their respective influence on the championship table," said Boullier.
"Every member of our team has worked tirelessly to improve our package, race by race, and this weekend will be no exception, as we strive to make the most of every session before the close of the season for the winter shutdown.
"We use every single opportunity on track to evaluate and improve our package and learn valuable lessons for next year, and this weekend will be just as important as ever.
"With the relative stability in the regulations between 2017 and '18, it means a lot of the data we've gathered, especially over the last few races, will still stand us in good stead over the winter and help inform the all-important decisions we make on next year's package."
Vandoorne feels "more comfortable than ever"