Toro Rosso press release
Less laps than planned today, because an engine change was required after a failure towards the end of the morning session at 12.40. The engine had nearly completed its planned running cycle.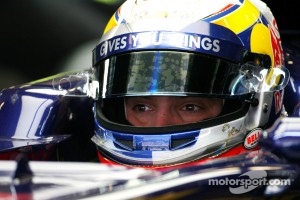 Jean-Eric Vergne, Scuderia Toro Rosso
The track stayed open for business until 5.30 pm today, the extra half hour added at the end to make up for the fact that the start was delayed, when thick fog in the area meant the Safety Helicopter could not take off. At the start of the session, Jean-Eric worked on an aero evaluation programme, while in the final half hour, the team again carried out pit stop practice drills.
The next time our French driver sits in the car will be for Friday free practice in Melbourne. Tomorrow, Daniel Ricciardo takes over at the wheel of the STR7 for the final two days of pre-season testing.
My winter testing ended with a less than satisfactory day
Jean-Eric Vergne:


"Of course it is a shame my winter testing ended with a less than satisfactory day, with not so many laps completed. However, yesterday we did a lot of running and the team still has two more days here with Daniel and I believe we can therefore make up for lost time.
The day was not a complete wash-out, as we got some useful data in the morning and did yet more pit stop practices this afternoon. Since Jerez, the team and I have worked very hard to get me as ready as possible for the season and now, I'm looking forward to taking part in my first ever Grand Prix when the championship starts in Australia."
Circuit: Catalunya, 4.655 kms
Driver: Jean-Eric Vergne
Car: STR7 - 03
Laps: 45
Best time: 1:23.126