Toro Rosso press release
Jean-Eric Vergne:


"It was a good day and I completed more laps than on any of my other times in the car so far.
I am feeling more confident and comfortable and I think we are also making steady progress on car development.
The pit stops are also getting better and were an improvement on last week here."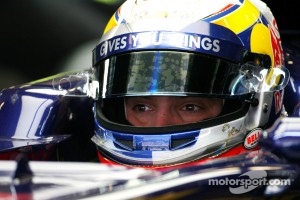 Jean-Eric Vergne, Scuderia Toro Rosso
After a five day break, winter testing resumed today where it left off last Friday, at the Catalunya circuit on the outskirts of Barcelona.
Once again, it was Jean-Eric Vergne in the cockpit of the STR7, driving the first two days of this final winter test, before everything gets shipped off to Melbourne.
The programme centred on car set-up work, in contrast to last week, when evaluating components had been the key element on the agenda.
The programme was split between short and long runs, with the car running trouble-free throughout. With the French driver being new to the routines of Formula 1, the team also carried out many pit stops.
Race simulation work is on tomorrow's programme, when Vergne will again be at the wheel.
Circuit: Catalunya, 4.655 kms
Driver: Jean-Eric Vergne
Car: STR7 - 03
Laps: 113
Best time: 1:24.216