By: Berthold Bouman, F1 Correspondent
The Istanbul Park circuit in Turkey will host round four of the 2011 FIA (Federation Internationale de L'Automobile) Formula One World Championship. The circuit is situated in the eastern Asian part of Turkey, 50 km of the city of Istanbul, while the city itself is situated on both the Asian and European continents, separated by the famous Bosphorus Straight. Istanbul, or Constantinople as the city was known in the past, is Turkey's largest city with 13 million inhabitants, the by Hermann Tilke designed circuit joined the Formula One calendar in 2005, and is very popular with the drivers for its unique features, most notably, Turn 8 -- a sequence of very fast anti-clockwise high-speed corners.
Turkish GP became
Red Bull
's Waterloo last year
Drivers who miss the first apex of the corner will lose a lot of time, it is all about getting the right 'rhythm'. Brazilian Felipe Massa, who won the Turkish Grand Prix three times, describes Turn 8: "It's an exciting corner, known for having not one but four apexes. It has a very high entry speed, almost flat, although you then have to lift slightly and the lateral G forces you experience are very high indeed. That is what makes it exciting. To drive it perfectly is not easy and you have to get everything right, but when you do it's a great feeling."
The Drag Reduction System (DRS)


The FIA has announced the DRS area for Turkey. The detection zone, the zone where the FIA equipment will detect whether a driver is less than one second behind another car, will be shortly before the braking zone of Turn 9. The activation zone, the zone where a driver is allowed to deploy the adjustable wing, is between Turn 10 and 12, and ends at the spot where last year Red Bull driver Sebastian Vettel and his team mate Mark Webber collided while they were fighting for the lead.
The DRS system has been a huge success, and it has contributed to the many overtaking maneuvers fans witnessed this year, the system reduces the drag of the wing by opening the flap of the rear wing, thus giving the car more straight-line speed. Although the dimensions of the moveable flap are the same for all teams, it is a fact that some teams have a better working wing than others, McLaren and Mercedes seem to have an optimal working adjustable rear wing, while Ferrari is still struggling to find the best set up. The system may also be used during qualifying, and combined with KERS (Kinetic Energy Recovery System), it is a powerful overtaking tool.
Red Bull is ready for KERS


Red Bull team adviser and former Formula One driver Austrian Helmut Marko announced this week his team has worked hard during the last three weeks to get the by Red Bull designed KERS system working, and now hope to have it fully operational. "Our KERS system is fine, over the Easter break we have made some modifications. It is much better now, and it works." Marko said.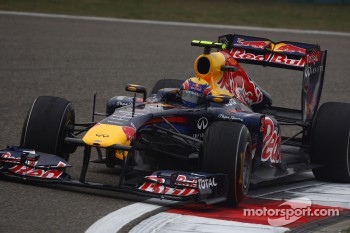 Red Bull
's KERS problems are solved says Helmut Marko
Which is good news for both Red Bull drivers, especially Webber, who had huge problems with KERS during the first three races of this season. Vettel is a fan of the circuit, "I like the Turkish circuit, it has all types of corners, slow and fast, like Turn 8. It's an awesome corner, we try to take it flat year by year. It's fast and extremely bumpy, so you can hardly see where you're going -- you turn in and hope for the best." Vettel is also confident the KERS problems are over now, "We have had some problems but have had very good people working on it. That's why for this next race I am not worried."
Team principal Christian Horner this weekend will, without a doubt, be reminded of one of the most embarrassing moments of the 2010 season: the collision between Webber and Vettel, who were fighting for the lead of the race. The incident spawned a long and heated discussion about who was the first driver at the Red Bull team. "Obviously last year what happened, happened. Lessons were learned from it and we are looking forward to going back to Istanbul," Horner said to Reuters.
Ferrari will be more aggressive


According to Ferrari team principal Stefano Domenicali, the Turkish Grand Prix will be 'crucial'. The Maranello-based team had a tough start of the season, the 150º Italia did not perform as well as expected, and the team has worked flat out to sort out the problems. "Our approach was not aggressive enough at the design stage and there was a problem with the correlation between data gathered from the wind tunnel and what we saw on track, so this did the damage in these first few months," Domenicali said.
Our approach was not aggressive enough at the design stage
He was referring to the fact Ferrari found huge discrepancies in the data from the wind tunnel where they tested new aerodynamic parts, and the data from the car as recorded on track. The team even recalibrated the wind tunnel to solve the problem, but Domenicali does not expect miracles this weekend. Ferrari's Chief Designer Nikolas Tomazis also admitted not much will change during the Turkish Grand Prix. "The package we will have this weekend was drawn up prior to the Chinese Grand Prix, therefore we have not been able to make significant changes to it in these past weeks," he explained.
Ferrari is really desperate to catch up, and have been accused of conducting illegal in-season test sessions. The team tested several new parts during 'filming days' on the Ferrari test track with Felipe Massa, and Ferrari protégé Jules Bianchi has also tested new parts this week at Viarano. The only thing that does seem to work is the KERS. "Ferrari had acquired a good working knowledge of the system back in 2009 and based on that, we updated our system for this year and, so far, it has definitely proved to be a good step forward," Head of Engine and Electronics, Luca Marmorini said.
The favorites


After his convincing win in China, Lewis Hamilton is certainly one of the favorites, McLaren has worked hard to close the gap with Red Bull, and Hamilton is looking forward to the race. "I won this race last year and Istanbul Park is a circuit I really enjoy. It's a great modern track, with a real variety of corners, plenty of high-speed stuff and a place where you really feel the benefit of having the car properly hooked up beneath you," the Briton said. And he is also convinced that looking after the tyres will be important, "For this race, I think we'll be seeing drivers working quite hard to look after their tyres throughout the race, particularly in Turn 8, which is fast and bumpy; it's one of the most demanding corners for tyres anywhere on the calendar."
Hamilton won the Chinese Grand Prix and is one of the favorites
Hamilton thinks there were already plenty of overtaking opportunities, "There's always quite a big chance for passing into Turn 12, because it's quite easy to stay with a leading car out of Turn 10 and duck into the tow. You can get the car into the corner while still carrying quite a bit of speed; and getting it right is really satisfying. There's every reason to believe that the run of interesting and exciting races will continue next weekend," he predicted.
Jenson Button is also a favorite, although he did not perform as well as Hamilton this season, he has the same tools, the McLaren MP4-26. He believes finding the right set up for Turn 8 will be important., "It's a high-speed, multi-apex turn with a lot of loading, so I think we'll spend part of Friday monitoring the loads through the tyres to make sure we can achieve a safe and achievable balance for the race before we head into qualifying on Saturday."
Of course with two wins in his pocket, Vettel is a favorite as well, and the 2010 champion is looking forward to continue his winning streak, "Turkey is a hard track on tyres and it's usually quite hot there, but I especially like the place as it's where I had my first F1 test drive. Our car should be strong there, but of course we have to respect our competitors and can never take anything for granted. People are pushing hard, but we are pushing very hard too to maintain our strengths."
We have to respect our competitors and can never take anything for granted
Mark Webber performed miracles during the Chinese Grand Prix, and has in the past proven he can be just as fast as his German team mate. If one of the front runners will run into problems, Webber will be right there to take over the leading position. The same can be said of Fernando Alonso and Massa, despite Ferrari's troublesome start of the season, both Ferrari drivers could this weekend finally grab that long awaited podium position. Massa certainly feels at home here, as he has won the Turkish Grand Prix three times. Alonso has claimed pole position isn't as important anymore as it was in the past, but he has never been able to prove his vision is right.
The underdogs


One of the surprises of the season so far has been the Lotus Renault team, both Nick Heidfeld and Vitaly Petrov have scored a third place this season, and although Heidfeld is not a fan of the overtaking 'devices', he sure knows how to use them. Heidfeld is pleased with the performance of the Lotus Renault, "The car is very innovative and it is quick. It is also responding well to set-up changes, it has got a good straight line speed and has already proved to be competitive on different track layouts."
He is convinced there is more to come from Lotus Renault, "I think we've shown over the first three races that we have a good car and Istanbul could be very interesting because it is the first European race and a lot of teams will bring updates, including us. Hopefully we'll be able to give a good performance again."
Again podium place for Lotus Renault?
His team mate Petrov is also upbeat ahead of the race, "Things are looking good for us I think. I'm pleased with my performance so far and with the results we have obtained but we need to stay focused and continue to work at the same rate." And the Russian added, "I will of course do the best we possibly can to get the best possible result. We're expecting upgrades for Turkey which is good, and of course the other teams will react too and work hard to beat us. We'll be doubling our efforts in order to catch the teams in front. You never know what can happen during a race weekend but both my team and I will fight hard."
Both Mercedes drivers Michael Schumacher and Nico Rosberg have made progress this season, and they will certainly land a podium finish this season, the question is when and where. Rosberg was very close to a podium finish in China, and even led the race. "We were all disappointed in Melbourne and Malaysia but, after leading the race in Shanghai, we have confirmed the potential of our car. The team did a very good job to take a step forward and we learned a lot from the weekend," Rosberg said. "Hopefully we can now make a further step for Turkey and produce another positive performance."
It has been a long time since Schumacher has seen the podium from up close, but the seven-times World Champion is still in good spirits. "I am now really looking forward to the action getting underway again. The venue for our next race, Istanbul Park, is a great track and provides a good challenge for the drivers. It's anti-clockwise, has a lot of gradient changes and different corner layouts, so it's quite nice to drive," he said. And added, "The team have been working very hard to continue the progress that we made during the last race in China. I am confident that we can enjoy an equally positive weekend."
We've definitely maximized our strengths
Force India, and in particular Paul di Resta, are doing well this season. The team struggled a bit to find the right speed, but di Resta is optimistic his team will perform well at Istanbul Park. "I think the season so far has gone pretty well -- very positive in terms of our performance from a team point of view. We know that we have work to do in terms of outright speed, but we've definitely maximized our strengths. We understand the car better now and that's where we have made big gains from winter testing," the flying Scot said. But he has never raced on the circuit, "Turn eight will be difficult, but the other corners are equally important for a good lap time. For learning a new track the simulation work helps and the team also provide me with as much information as possible. But I need to get an impression first before I think too much about it."
Adrian Sutil also expects a good weekend for Force India, "The first three races were better than expected: we scored points and were always quite close to the top ten. The task now is developing the car and the updates we have coming look interesting so I'm excited to see how it goes." About the circuit he said, "It's a nice circuit: up and down, long straights and you can overtake. Turn eight is very special – a fantastic corner to experience in an Formula One car because of the high g-forces. I think we will be quite competitive and once again the goal is to score points."

Grand Prix Turkey, Istanbul Park

| Istanbul Park | Istanbul, Turkey |
| --- | --- |
| Circuit length | 5.338 km |
| Direction | Anti-clockwise |
| Corners | 14 turns (6 right and 8 left) |
| Longest straight | 720 meter |
| Total number of race laps | 58 |
| Total race distance | 309.396 km |
| Top speed | 310 km/h |
| Average speed | 215 km/h |
| Tyre wear | Medium |
| Tyre compounds | Hard (Prime) - Soft (Option) |
| Brake wear | Medium |
| Downforce level | Medium to high |
| Lap record | J.P. Montoya - McLaren - 1:24.770 (2005) |
| 2010 Pole Position | M. Webber - Red Bull-Renault 1:26.295 |
| 2010 Race Winner | L. Hamilton - McLaren-Mercedes - 1:28:47.620 |
| Speed limits in the pit lane | 60 km/h during practice sessions; 100 km/h during qualifying and race |
| FIA Stewards | Derek Warwick (GB), Lars Osterlind (SWE), Silvia Bellot (ESP) |
Istanbul three-day weather forecast

| Day++ | Forecast | Min Temperature | Max Temperature |
| --- | --- | --- | --- |
| Friday | Clouded, light rain, cold weather | 5C | 13C |
| Saturday | Mostly clouded, light rain, cold weather | 8C | 14C |
| Sunday | Clouded, heavy rain showers, cold | 10C | 12C |
Tyre strategies


Pirelli has allocated the Hard (Prime) and Soft (Option) tyres for Turkey, and due to the many fast high-speed corners it is expected the tyre strategy will be very important. Button about the role the tyres will play, "I think there'll once again be a lot of focus on tyre durability and drop-off next weekend. Looking at the track configuration, our simulations suggest that Turkey will be a critical test for the tyres - particularly the front-right, which will be placed under considerable load through Turn 8."
And the Briton added, "I don't think it's an under-estimation to say that tyre wear will probably determine every team's race strategy. It will be important to run the tyre within a safe operating window, and that's likely to determine when and how often we stop during the Grand Prix."
Again, Pirelli will provide teams with a new evolution of the hard tyres to test during Friday's two free practice sessions. For the Italian tyre company, Istanbul Park is one of the most challenging circuits. Pirelli's Motorsport Director Paul Hembery, "Istanbul Park should provide the tyres with one of their toughest tests of the year, because of the high-speed corners, abrasive and bumpy surfaces, and huge forces that act on the cars." When asked how many pit stops a team will make Hembery replied: "I expect us to see three pit stops per car, but of course it will depend on the individual strategies that the teams choose to adopt, which have become an important feature of the races so far."
Third place in China for Webber with alternative strategy
Ahead of the Turkish Grand Prix there have been speculations about a possible alternative tyre strategy. When looking back at the race in China, we note one remarkable achievement: Webber's third place. Although he had to start from 18th place on the grid, he finished just 7.5 seconds behind Hamilton. Which means he was faster than Hamilton and Vettel, despite the fact he had to find his way through the back markers, and despite the fact there was nothing wrong with the tyre strategy of the aforementioned, which was according to Pirelli, the optimum strategy.
Nevertheless Webber landed a third place, and after the race he jokingly remarked it would perhaps be a good idea to forsake Q2 or Q3 more often in the future. Webber had two huge advantages: he still had six sets of good tyres -- three soft and three hard sets for qualifying and the race, like any other driver -- but after he had failed to make it into Q2 he still had three perfect sets of soft, and two perfect sets of hard tyres. He also was free to choose on which compound he would start the race, while drivers who did make it into Q3 had to start the race on the same tyre compound they had qualified on, in this case the soft tyres.
The alternative strategy, will it work?


The theory now is that the alternative tyre strategy Webber was on, he started on the hard tyres, made a quick stop after 10 laps, and then used the remaining sets of softs to finish the race, is in fact a better strategy than starting on the softs and finish the race on the hard and slower compound. Team engineers have been studying the lap charts and lap times of the Chinese Grand Prix, and for some teams it could be very tempting to deliberately not qualify for Q3, which would mean they have an extra set of softs and the free choice to start the race on the compound they prefer.
The softer tyres are considerably faster than the hard tyres, and a driver who is on a new set of soft tyres by the end of the race, has a huge advantage opposed to drivers on the worn hard tyres, and that is exactly why Webber made so much progress during the closing stages of the Chinese Grand Prix, just two or three laps more and he would have taken over second place from Vettel and perhaps even have threatened the leader of the race, Hamilton. Whether teams will sacrifice Q3 to have more tyres available for the race remains to be seen, the general consensus is still that starting as far forward on the grid as possible, is still the best option to win.
The best of the rest


That should actually be a question: Who is the best of the rest? Toro Rosso, the much plagued Williams team, Sauber, or one of the newest teams? Toro Rosso have been very fast during pre-season testing, but failed to make a good impression during races. Both drivers have been struggling with the car, but in China they were able to make it into Q3. Both drivers have been involved in several incidents, which spoiled their chances to score more points this season.
Williams have completely lost their way, not even Rubens Barrichello, the most experienced driver on the grid, has been able to guide the team in the right direction. The oil dollars Pastor Maldonado has brought to the team were useless as the Venezuelan drivers spent most of his races in the gravel trap, and the team would, performance-wise, been better off with Nico Hulkenberg who was unceremoniously dismissed even before the 2010 season had ended.
Pastor Maldonado, Williams F1 Team
Sauber lost valuable points when both Kamui Kobayashi and Sergio Perez were disqualified from the Australian Grand Prix, and with only seven points courtesy of Kobayashi for the Sauber team, it is hard to imagine Swiss team owner Peter Sauber will be satisfied with the current results.
Team Lotus has set their sights on catching the above mentioned teams, and it must be said they are the team that has made the most progress. However, they still have to score their first world championship points, but both Heikki Kovalainen and Jarno Trulli are confident that this will happen this season. Trulli is certainly upbeat by the progress his team has made, "The team's been hard at work on the aero updates. I want to make sure we can repeat the performance we showed in China and that relies on us having an error free Friday and Saturday and giving us the best chance to fight with the likes of Williams, Force India and Sauber."
Marussia Virgin have not made the progress they were hoping for, and Timo Glock has warned several times his team might not make it into the race due to the 107% qualifying rule. His team will bring an important upgrade to Turkey, but it will only be available for Glock, and Jerome d'Ambrosio will have to wait until Spain for his update.
Timo Glock, Marussia Virgin Racing
And finally HRT, after again almost missing the start of the season, the team is trying to get as much mileage as they can with the F111, both Narain Karthikeyan and Vitantonio Liuzzi finished the race in China, and their goal for this weekend is again to finish the race, and collect as much data as they can from the car, which will hopefully give them a better understanding of the potential of the HRT.
Final thoughts


Again many factors will play a role during the Turkish Grand Prix, the weather forecast predicts a lot of rain and it will be colder than during the previous races, tyre strategy will play an important role, and for Red bull the big question will be whether they have finally been able to sort out their KERS problems. Ferrari is poised to catch up with McLaren and Red Bull, but only time will tell whether they will succeed. Again the race could become interesting with KERS and DRS creating more overtaking opportunities, drivers love the circuit and Turn 8 is one of the most challenging corners in Grand Prix racing, some have even compared it with Eau Rouge at Spa-Francorchamps or with the challenging 130R at the circuit of Suzuka.
But there is one dark cloud hanging over Istanbul Park. Not a cloud packed with rain as 'Rain Master' Bernie Ecclestone would like to see, but a dark cloud that obscures the future of the Turkish Grand Prix, because ring master Ecclestone has doubled the race fees from 2012 onwards, and it could well be this race will be the last time Formula One cars will be seen negotiating Turn 8 at the beautiful Istanbul Park circuit.