Chinese GP
IT HAS PACE, NOW IT NEEDS RELIABILITY
Tony Fernandes, Team Principal:

"We head to China after taking a good step forward in Malaysia, but we are all focused on the reality of where we are now and know there we have a lot of work ahead of us. The main aim for me now is to improve our reliability and make sure both cars cross the finish line on Sunday. We have shown there is pace in the car, and there will be more to come when we start putting the updates on in Europe, but now we have to make sure we give the drivers the time they need on track to optimise the setup and the only way to do that is to avoid reliability issues."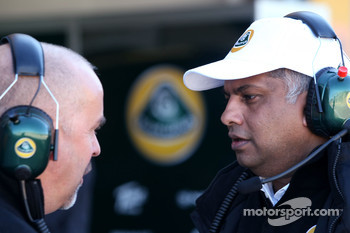 Mike Gascoyne, Team Lotus project managerTand Tony Fernandes, Team Lotus F1T
Mike Gascoyne, Chief Technical Officer:

"In China we have Luiz Razia and Davide Valsecchi driving for us in FP1 and I think Shanghai will be another interesting weekend for us, especially as we have had two races so far in such different conditions. In Melbourne the tyres lasted longer than I think everyone expected and then in Malaysia there was much higher drop-off and multiple stops as a result. In China we will all be in slightly unknown territory with the tyres and the cooler temperatures will mean the most important goal for us will be to maximise our track time on Friday and Saturday morning, getting the cars set up properly for qualifying and bridging the gap to make it into Q2."
Heikki Kovalainen (car 20, chassis T128-01):
Heikki Kovalainen, Team Lotus
"I enjoyed my time in Malaysia but now it's about building on the performance there and looking ahead to China. It'll be cooler than in Malaysia for sure, but for me the heat isn't a problem anywhere we go, and obviously that's the same for the cold! However, pace wise, I think that if we can repeat our performance in the race in Malaysia then it means we can repeat it anywhere in the world. I do enjoy driving in China - it's similar to Malaysia in that it's a modern circuit, fairly small and it has some pretty heavy braking zones. The DRS will come into play on the main straight and I think it'll be another good race."
Jarno Trulli (car 21, chassis T128-03):

China is one of those tracks where I have never been too luck
"China is one of those tracks where I have never been too lucky, so it's always a bit of a challenge. Despite that, we go there in a good position after getting pretty much the best out of the car in Malaysia. We learnt a lot from Saturday and Sunday there, and that will be very useful for us in Shanghai where obviously it will be a different challenge, but hopefully we can have a better shot at qualifying and let's see what happens on Sunday."
General:

2010 Air/track temp (˚C): 19 / 27
Race laps: 56
Circuit Altitude (m): 8
2010 ATM Press (HPa): 1022
2010 humidity (%): 35
2010 wind (kph): NNW 25

2010 Timing

2010 Qualifying Result
P1 VET (1:34.558 Q3)
P2 WEB (1:34.806 Q3)
P3 ALO (1:34.913 Q3)
TL best P20 TRU (1:39.399 Q1)

2010 Race Result

P1 BUT (1:42.886) L14
P2 HAM (1:42.061) L13
P3 ROS (1:43.245) L14
TL best P14 KOV (1:47.141) L14

Quick Track Description

Overtaking is difficult
Easy on brakes
Kerbs are not an issue
Wind has a big influence in S2, for the high speed section and top speed
2010 race was started in semi-wet condition then constant light rain

Typical Balance Issue

Traction instability out of T6 and T14 and Us in T7/T8
Gears ratio (1st gear/others): 1st gear sometime used in T6

Circuit Particularity

Sensitivities:

Bumpiness: Low
Engine severity: Medium
Overtaking chance: Low
GBX severity: Medium
Kerbs: Smooth
Lat/Long grip: Medium
RH setting particularity: None
Aero eff ratio: Medium

Track and Base Setup
Track grip evo during WE Medium / High
Aero settings: High
Brake wear severity: Low
Brake cooling necessity: Medium

Source: Team Lotus