Malaysian GP
Team Lotus Preview Malaysian GP

Tony Fernandes, Team Principal:

"Team Lotus returns home and we are all excited about the race ahead. There will be three teams here with links to Malaysia but only one team that has Malaysian blood running deep in its veins, with Malaysian staff contributing to our growth at every level and which has been built from the ground up in the same style as Formula One's grandee teams.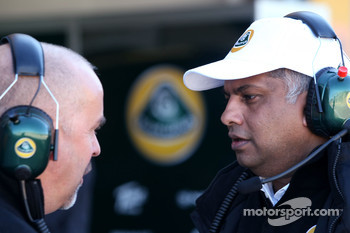 Mike Gascoyne, Team Lotus project managerTand Tony Fernandes, Team Lotus F1T
We are enormously proud of what we have already achieved in just 18 months and we have done it through hard work and dedication, not by buying seemingly instant success through stickers on a car. We will continue to work extremely hard as we develop the car and the team, this season and for many years to come, but we will not rush into anything. Our team is growing in the right way, just like AirAsia has done, and when we look back in years to come history will show that by laying solid foundations now we will achieve long-term success."

Mike Gascoyne, Chief Technical Officer:
"We left Australia with mixed feelings about the race. Heikki's pace in the early laps was a good step forward for us, and Jarno's race pace took us close to what we showed in the pre-season tests we can do, but we did struggle all weekend with the tyres and a couple of small issues that we have now had time to resolve back at the factory. The conditions at Sepang should suit us more favourably.
The conditions at Sepang should suit us more favourably
I think the track temperatures will help us show more of the car's true pace and as the layout it is quite similar to Barcelona - relatively high aero and a good mix of low and high speed turns - I think we will be able to extract more performance from the car than we were able to in Melbourne. The whole team is excited about the challenge ahead - they are energised by the huge local support we have and that will help us all put in a performance that will do our fans proud."
Heikki Kovalainen (car 20, chassis T128-01):

Heikki Kovalainen, Team Lotus
"Malaysia has a combination of all kinds of corners. The first few corners are very slow chicanes, then turns four, through five, six, seven and eight are very fast and you need to have a really good balance there. Then towards the end of the lap there's two very difficult braking points, corners where you're turning and braking into the corner. I think it's turns 11 and 13, both right-handers. You can take a couple of deeper lines there. Those are the main points. Getting your braking stability right in those kind of corners is one of the key elements to making a good lap time in Sepang.

"Physically it's one of the toughest races, maybe together with Singapore which is also very difficult. It's something we start preparing for immediately after Australia. I arrived in Malaysia immediately after Melbourne and I started preparing the hydration and working with my nutritionist to prepare for the race itself. If you prepare properly it's no issue. I'm looking forward to it - I enjoy being in the heat and I'm not distracted by it at all ."
Jarno Trulli (car 21, chassis T128-03):

Jarno Trulli, Team Lotus
"I'm really fired up for this weekend's race. This is our home race and we want to do our best to make the fans proud of us. There will be a lot of support for us in the stands and having been here for a week I've already seen that the level of support has gone up a lot since last year, so whatever happens it will be a great weekend for us.
"I've been keeping busy since arriving and spent a couple of days up in the Malaysian hills training on my bike with a local pro team and that's given me an outstanding preparation for what is always a tough weekend in the car. Sepang is a very challenging track. It's technical and it pushes the drivers and the cars very hard but we believe that the package we have can help us have a good weekend here in Malaysia and I am really looking forward to seeing how the car responds in the heat. In a perfect world we would be able to do something amazing in front of our home fans, but let's see. It's still early days for us, and while we are clearly closer to the midfield teams than we were a year ago we still have some time to make up, so I think we are all being realistic and working very hard to continue moving forward this year."
Source: Team Lotus