Susie Wolff made history in FP1 at Silverstone
The 2014 British Grand Prix weekend kicked off with a bit of history being made by the wife of Toto Wolff. Susie took part in FP1 for the Williams Martini Racing team at the famous Silverstone circuit. She took the place of Valtteri Bottas, but her day did not go as well as she had hoped.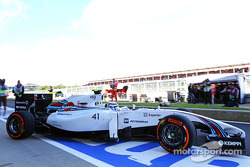 Susie Wolff, Williams FW36 Development Driver
The Williams developmental driver was sidelined after just four laps due to what is being described as 'oil pressure problems.' Four laps was more than enough to secure her place in Formula One history however. When she exited the pit lane, she became the first woman to have track time during a Formula One race weekend in 22 years and just the sixth ever.
The day got that much worse for Williams when Felipe Massa suffered a heavy shunt in his FW36, ending his day prematurely as well. With a fastest lap of 1:44.212, Susie clocked in 21st, the slowest of those who completed a timed lap. Lotus' Pastor Maldonado did not take part in the session.
Susie Wolff will get another shot at it in the upcoming German Grand Prix, which is just two weeks away.