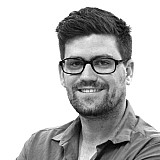 Nico Rosberg says Mercedes is making its mark as one of the "big" teams in the history of Formula 1, after the squad wrapped up its second consecutive constructor's title in Sochi last weekend.
The team wrapped up the title thanks to Ferrari's Kimi Raikkonen being given a 30-second post-race penalty for his clash with Williams driver Valtteri Bottas, the subsequent drop from fifth to eighth in the final classification giving Mercedes enough points to seal the World Championship with four races to spare.
According to Rosberg, winning the title in such dominant style is proof that the team is now becoming a big player in the history of F1.
"I've seen this team grow since the start of the Silver Arrows project in 2010 and the level we've got to now, all working together, is unbelievable," said the German.
"There were some really tough years at the start but we are now the big team of Formula 1 – dominating the sport and breaking records along the way.
"When people think of F1 throughout history, it's only a handful of teams like McLaren in the '80s, Williams in the '90s and Ferrari in the 2000s that come to mind – and we are now making our own mark on that list.
"It's been a tough couple of days for me – but being back at the factories and seeing all my colleagues so happy after the championship win really puts a smile back on my face."
Hamilton applauds Rosberg's team spirit
With Rosberg's title hopes in tatters following his Russian GP exit, which came about thanks to a throttle failure while leading, Lewis Hamilton has stepped up to praise his team-mate's fighting spirit.
"I just want to mention too what a great team-mate Nico is," he said.
"He's had a much tougher season so far than I have but has been a real team player throughout and I know he'll be fighting back through the many years to come in which we'll no doubt be competing hard against each other."