By Berthold Bouman, F1 Correspondent
Hispania Racing (HRT) today confirmed Australian Daniel Ricciardo will take over Narain Karthikeyan's seat at the Spanish óutfit. The 21-year old driver was Toro Rosso's reserve and Friday driver, but the talented Australian will now make his Formula One race debut during the British Grand Prix at Silverstone.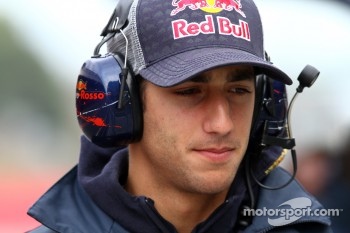 Daniel Ricciardo joins Hispania racing at Silverstone
José Ramón Carabante, Chairman of Hispania Racing about the deal with Ricciardo, "This agreement is a reward for all the hard work Hispania Racing has shown since we started in Formula 1 last year. We're proud that the Formula 1 World Champion team has trusted us in their effort of developing their drivers. Let's hope that this is just the start of a fruitful relationship".
A nice birthday present for the young driver, as he turns 22 on Friday and was the regular 2011 Friday driver for Toro Rosso. Ricciardo was very happy with his new position as a race driver, "It's a dream come true for me –- for the first time on an F1 starting grid! I had to pinch myself a couple of times to be sure that it's real. I'm excited and can hardly wait to drive at Silverstone. It's a new challenge, a new experience, a new team, but I'm ready and will give of my best in any event".
Let's hope that this is just the start of a fruitful relationship
Ricciardo was tipped to made his race debut for Toro Rosso at some point this season, but will now drive the HRT F111 at Silverstone. Red Bull and Toro Rosso advisor Austrian Helmut Marko was impressed by Ricciardo and recently hinted it was about time to see him make his full race debut, "In the simulator and in practice, his results are very good, but we need to see what he can do in the race."
Toro Rosso team principal Franz Tost was also impressed and was also keen to see him at Toro Rosso next year, "He should learn the team, all the race tracks, to work together with the engineers, get a little bit of knowledge about the press work, about the marketing and this should be the preparation for him to race for Toro Rosso in 2012."
But Ricciardo now signed a deal with HRT, and this morning he said to the Australian Herald Sun, "It's awesome, just awesome. To make the first one at Silverstone, it's great!" And he added, "It's a circuit I know well and it's just up the road from my second home in Britain."
Team principal Colin Kolles was also upbeat, "I'm happy to welcome Daniel to the team; I'm glad the Team managed to conclude this deal together with Dr. Helmut Marko who deserves my personal respect".
Ricciardo in his role as Friday driver for Toro Rosso
Ricciardo will join Italian Vitantonio Liuzzi at HRT, but statements of HRT and Ricciardo failed to mention what the fate of the now ousted Karthikeyan is, he just made his come-back in Formula One, but according to Reuters it is expected the Indian will will be back in the car for the Indian Grand Prix on October 30 this year, whether this means either Ricciardo or Liuzzi would be sidelined for the inaugural India Grand Prix remains unknown.
Ricciardo was born on July 1 in Perth, Western Australia and started a career in karting at the age of nine. He quickly moved up the ranks and participated in Formula Ford and Formula BMW, and made a switch to Formula Renault where he raced in his first year for the RP Motorsport team and won the championship in 2008 for the SG Formula team.
In 2009 he participated in the British Formula Three series, and won the title the same year for the Carlin Motorsport team. In 2010 he joined the Formula Renault 3.5 Series for Tech 1 Racing and became second in the championship. He was then, in 2011, contracted by Toro Rosso and spent the Friday mornings learning the ropes in the car of either Sebastien Buemi or Jaime Alguersuari.