Get alerts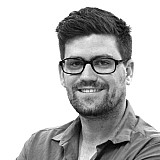 Daniel Ricciardo says Red Bull Racing is "in a good position" after the first test of the 2016 Formula 1 season.
Ricciardo completed around 200 laps of running in the new RB12 across the first two days of the test, before handing over to Daniil Kvyat for the second two days.
While there have been no great strides in performance from the Renault powerplant, Ricciardo reckons the package as a whole is looking good after the opening on-track hit-out of the year.
Reliability, and an improved starting point compared to this time 12 months ago, are what he says are the crucial factors heading into the new season. 
"I think we're confident with what we've got," said the Australian.
"Reliability was pretty good, which is nice. I think we got pretty much 200 laps across [my] two days, I'm happy, the car feels pretty good, it's nice to get back in.
"I think we've set a good rhythm from quite early on and it's good for me as well to get into that.
"It's good, you know. Normally you come to Barcelona from Jerez so you've already done some... some ground work with the car, but here it was straight into it for us and I'm happy.
"It's good, the team's positive, we're all feeling like we're in a good place.
"We didn't expect to set the world on fire during the first part of the season, but I think we're on schedule now to be in a good position. We'll see where we end up in Melbourne."
Red Bull Racing completed 369 laps across the four days – fourth best – while Renault-powered cars in general banked 3314 kilometres of running.
For a full breakdown of who did what in Barcelona, check out Motorsport.com's in-depth analysis.