Get alerts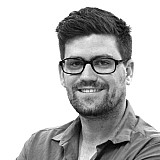 Daniel Ricciardo said he went straight back to his apartment without speaking to any of the Red Bull Racing crew after the blunder that cost him victory in Monaco earlier this year.
The Australian was on course for his first F1 victory on the streets of Monte Carlo back in May, but was robbed of the win when a miscommunication regarding a switch to slick tyres saw a crucial pitstop take way too long.
The delay was enough to set Lewis Hamilton on course for victory, and resign a visually disappointed Ricciardo to second place.
Speaking exclusively to Motorsport.com's GP Gazette magazine, Ricciardo admitted that he went straight home after the podium and media commitments, unwilling to face the Red Bull Racing crew at the time.
"Basically the only person I saw after the race was Helmut [Marko]. He was sort of waiting in my room, just to I guess apologise," Ricciardo said.
"Then I went straight back to my apartment.
"It's not my style to spit the dummy if you like, I just felt it wasn't going to be a good environment for anyone, so I was like 'let me just go back and be in my own space'.
"I spoke to Christian [Horner] the Monday after the race, he called me, and again he was obviously apologetic. We obviously took a few days to overcome it, but I wasn't calling him names or anything.
"I knew everyone was heartbroken – it was just a shitty situation."
For more on Ricciardo's Monaco disaster, as well as exclusive insight into his 2016 season and relationship with teammate Max Verstappen, check out the latest issue of GP Gazette here or read it below.