Subscribe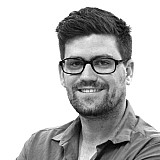 Daniel Ricciardo says the visibility from Red Bull's alternative Halo concept is "pretty good", having tried a mock-up of it at the RBR factory.
Red Bull Racing is developing its own version of the Halo driver protection system, which features a large acrylic canopy.
Ahead of a first track test of it on a show car next month, Ricciardo has already experienced it during a factory visit.
And with it featuring two support structures, rather than the single pillar idea that has been tested by Ferrari, Ricciardo thinks that the Red Bull idea is a good solution.
"I think it's the one I tried in the factory," he told Motorsport.com. "It seemed pretty good.
"From the Red Bull one I tried, visibility is pretty good.
"I know everyone is pretty keen on having a Halo system. For me, sure it won't look as sexy as it does now, but it's a good thing for the sport."
Giorgio Piola's drawing of the Red Bull Halo concept was exclusively revealed yesterday on Motorsport.com.
The system already has the backing of Williams, team principal Claire Williams claiming she prefers it to the Ferrari system that was used in testing at Barcelona.