Get alerts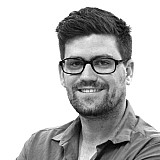 Daniel Ricciardo isn't expecting Formula 1's new regulations to trip up Mercedes next season, claiming that the title-winning team will remain the benchmark for another year.
While the new regulations will be a partial reset for F1, and potentially open the door for a form shake-up, Ricciardo is staying cool on Red Bull Racing's chances against a Mercedes squad that has dominated the last three seasons.
In an exclusive interview with Motorsport.com's GP Gazette online magazine, Ricciardo said people should 'not be fooled' regarding the strength of the Mercedes package as a whole.
The Aussie claims that it's not just the engine that has made the car so quick across recent seasons, and that he expects the team to come up with a more than competitive aero solution for 2017.
"I think a lot of people are probably getting a bit excited [about Red Bull's 2017 chances]," Ricciardo said.
"I'm obviously trying to stay a little bit grounded for now with that.
"We can have a great aero package, but it will probably then cost us time down the straights. And Mercedes, let's not be fooled – sure they've got a great power unit, but they've got a great car.
"We'll see. In Singapore they still gained on the straights compared to us, Rosberg's lap was half a second quicker in quali, so they've still got a good car.
"I think they will still be the target next year; they'll come out in Melbourne as the team to beat, but hopefully we'll be close enough to pick up the pieces."
For more with Daniel Ricciardo, including insight into his relationship with explosive talent Max Verstappen, check out the latest issue of GP Gazette here, or read it below.