Get alerts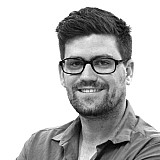 Daniel Ricciardo says that sixth place was the best he could have possibly managed at the Bahrain GP.
The Australian drove a lonely race to come home sixth, the most exciting part of his evening coming when his Renault engine exploded on the start/finish straight on the last lap, causing him to coast to the line.
According to Ricciardo, while hardly thrilling, the sixth place was the best he could have managed.
"I felt that I drove to the best of my ability," he said.
"Unfortunately it didn't give us much, it wasn't really an exciting sixth place for us, but it was all that I could do.
"The pace and the improvements through the stint were good, so we have just got to keep building on that."
Red Bull Racing boss Christian Horner also praised Ricciardo's consistent drive, as well as highlighting Daniil Kvyat's efforts after the Russian finished ninth, having started back in P17.
"Ricciardo, I think drove a very clean race, he did everything he could, and got the maximum out of the car," said Horner. "And Kyat, good recovery. Both cars in the points, I think that was the maximum today."
Fourth engine coming for Ricciardo
Ricciardo was already using his third engine of the season in Bahrain, and following its failure he will now be forced to switch to his fourth and final unit currently allowable under the 2015 regulations.
"There was definitely a lot of smoke, it didn't look great," Ricciardo said.
"The bright side is I just got over the line, but literally out of the last corner I saw smoke everywhere."