Subscribe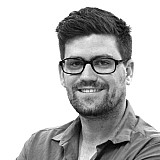 Daniel Ricciardo has thrown his support behind plans to make Formula 1 faster, saying that quicker lap times will separate the top drivers from the rest of the field.
The Red Bull Racing driver says that plans to make F1 faster, detailed following a recent Strategy Group meeting, are exactly what the category needs to keep fans engaged.
And he also says that speeding things up will separate the sport's elite athletes and the rest of the drivers, both in terms of ability and physicality.
"I think the race-pace needs to be increased," Ricciardo said.
"From a physical side, you know, the races aren't easy, and we still sweat and get out of the cars feeling like we've done a workout – but I think it should really be that extra level. It would help to make it a bit more of a challenge.
"At a track like [Monaco], even if you gain three seconds a lap, everything is going to come at you so much quicker. Physically, mentally, concentration, everything has to be more in tune.
"And then you'll start to see a bigger separation between the top drivers and, let's say, the others. It will be more rewarding for the guys who think they can really do it."
Drivers know F1 can be better
Ricciardo is of the firm opinion that F1 has plenty of scope for improvement in terms of its on-track product, and says both the drivers and the fans deserve the cars to be faster.
"It doesn't feel fast, and we know it's not going very quick – particularly at the start," he added.
"We know Formula 1 can be better in that respect, and I think this will help.
"By the sound to it it's all going to go ahead. From a driver's point of view, I don't see any negatives. I think we all want it. We'd love to go harder for longer, so it should be good. We need to go faster – for the fans as well.
"They'll gain the respect back that potentially we've lost a little bit."