Hamilton says Red Bull "quite a bit ahead" of Mercedes
Lewis Hamilton says Red Bull appears to be "quite a bit ahead" at the Azerbaijan Grand Prix, as he admitted that Mercedes is simply not quick enough.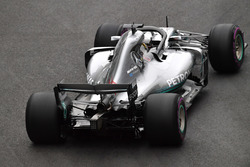 The world champion was fourth and fifth fastest in the opening practice sessions at Baku, and was open that his car was no match at the moment for its rivals.
"I did anticipate it would be very close coming into this weekend obviously from the previous race experiences," said Hamilton.
"It's been a smooth day. We got through everything we needed. I did all the laps, not really many mistakes and [we gathered] lots of information.
"We are not quick enough. Red Bull is definitely quite a bit ahead and I couldn't match their time today so we have some work to do."
When asked whether Ferrari or Red Bull appeared to be the main threat, Hamilton said: "It is definitely both.
"They are both currently ahead still as they were in the last race but more so today. Red Bull seems to have picked up quite a bit of pace so we shall see.
"I'm hoping overnight, I'm going to be knocking on the doors of all the engineers, pushing them, and hope I can get them to make some changes."
Qualifying target
Despite Daniel Ricciardo ending second practice with the fastest time, the Australian remains cautious about the team's chances of staying on top in qualifying, when Mercedes and Ferrari turn up their engine.
"We're looking pretty good, let's see in qualifying if we can match that speed," he said. "But I'm confident the race will be quite close."
Hamilton suggested that the primary focus for him now was trying to get a better comprehension of how the 2018 tyres perform.
"Really this new tyre we have, I am still trying to understand it," he said.
"Thing is, we did the winter testing and I remember back in the day a few years ago I didn't do the winter test and people said, 'is this the reason you didn't win the world championship?'
"Now I can go, I don't have to do winter tests because it doesn't make any difference!"
Hamilton says Red Bull "quite a bit ahead" of Mercedes