Daniel Ricciardo (Second Practice Session: 39 laps, 1:15.902, pos. 16th): "We must try and learn from today, but we have to bear in mind that the conditions could be very different when it really matters on Sunday.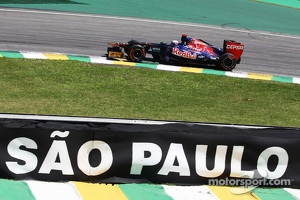 Daniel Ricciardo, Scuderia Toro Rosso
The two sessions could have been better, but hot conditions have not been the most suitable ones for us this year.
All the same, we tried various different set-ups, splitting the work between me and Jev to learn as much as we could.
It's going to be a long night trying to evaluate everything and then see what the weather does. In performance terms it would have been nice to do better, but in terms of knowledge I think we gained a lot.
The 2013 tyres? They felt a little bit different, but nothing dramatic. Let's say we didn't find any negatives with them."
Jean-Eric Vergne (Second Practice Session: 40 laps, 1:16.048, pos. 18th): "I don't have much to say as we seemed to struggle a lot today to get the car working properly.
That was mainly linked to the high temperature which did not suit us and made life hard for the tyres. We will have to work very hard tonight to come up with ways of improving the car for qualifying, even if we expect Sunday's race to be a wet one.
Rain would definitely suit us better. We had some 2013 tyres to try and we had some sensors fitted this morning to see what they did. It's interesting to see for next year as the shape of the tyre is slightly different which will have an impact on the aero."
Laurent Mekies (Chief Engineer): "Quite a tough day for us, which was not unexpected as we know we find things a bit more difficult when the conditions are as hot as this – the track temperature reached 54 degrees today – and this year we have always suffered a little bit more than our competitors in these conditions.
On the plus side, it has been a trouble free day, during which we tried various changes to try and find the right set up. Even though it is meant to stay hot tomorrow, I feel we can improve the car and then we are expecting a wet Sunday anyway.
It was interesting to have both drivers run the 2013 tyres that Pirelli supplied to all the teams here. We got some useful data for next year, therefore it was important to invest some of our track time in this exercise in both sessions."
Scuderia Toro Rosso