Subscribe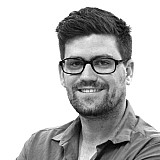 Renault's Jolyon Palmer says he had no problems returning to wheel-to-wheel battle, despite having spent 2015 without a race seat.
Palmer, who was on the sidelines as a test and reserve driver for 2015 after winning the 2014 GP2 title, enjoyed an action-packed return to racing in Melbourne on his way to a credible 11th place.
That included a first-lap tussle with Fernando Alonso, and trying to keep the squabbling Toro Rossos behind him.
But despite not having done much racing over the last 12 months, Palmer said he didn't feel his race craft was at all rusty.
"I wasn't worried about it. I was just enjoying it, going wheel-to-wheel," he told Motorsport.com.
"I would like to do a bit more attacking, there was a lot of defending, but it came back completely naturally. Being right on the edge, but not touches and a bit of racing room.
"I really enjoyed being back at it, really. I loved all the wheel-to-wheel stuff. First lap, I was up against Alonso for half a lap, side-by-side. And he's good.
"He didn't give me any excess space, put it that way. But it's a good challenge."
Pleased to make STR lives difficult
Palmer added that he particularly enjoyed scrapping with the two Toro Rosso drivers Max Verstappen and Carlos Sainz, a battle that resulted in the team-mates touching as part of what was a heated exchange.
"I didn't know they were having loads of arguments with each other," he said.
"They have a really quick car. When I saw Sainz coming behind me I thought this will be tough, but I was in the points and I wanted to try and hold him off.
"When I started to hold them off for a bit, I thought I'd chance my arm and hopefully they would come together, or at least drop back a little bit. The problem was they were so quick that it was every corner that I had to be watching them.
"It was inevitable [they would get past] in the end. I'm pleased, anyway, at least I made their lives difficult."
Elimination qualifying's only fan
Palmer also said that he enjoyed the short-lived elimination qualifying system, particularly after just scraping through to Q2 with an exceptional late Q1 lap.
"I really enjoyed it. I think I was on my own in enjoying it to be honest," he said.
"For me Q1 was really fun. I also didn't know the track that well, I'd only had FP3 [in the dry], so I was finding my feet. It was always trying to improve and keep my head above the water.
"So the last lap it was pressure and trying to deliver.
"I don't really mind what happens with qualifying, either way I think you're trying to do the fastest lap and the order won't be massively different."
Interview by Jonathan Noble