Mercedes to implement "short-term" fixes in Baku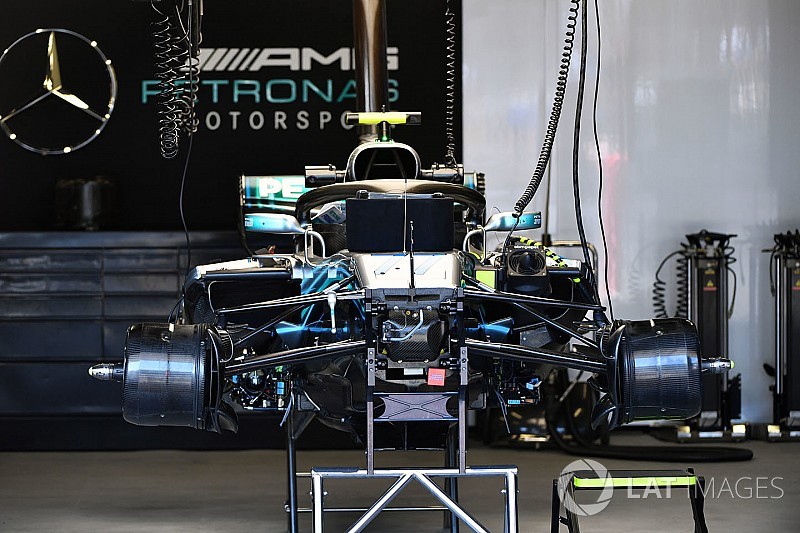 Mercedes has implemented "short-term" fixes to its Formula 1 car for the Azerbaijan Grand Prix in the light of its struggles in recent races.









Mercedes has suffered tyre management problems in the first races of the season relative to main rivals Ferrari and Red Bull, especially on Pirelli's softer compounds.
The team has also lost the qualifying speed advantage that it has long enjoyed, and Lewis Hamilton said Mercedes will introduce some solutions this weekend in Baku.
"They're short-term things," Hamilton said of changes introduced for Baku.
"We've sat and understood where we've gone wrong but we're still implementing the changes because there could be five or 10 different solutions for that particular problem.
"Now I'm just hoping that we've implemented the right equation to get the right answer. I won't know till tomorrow."
Hamilton, who is yet to win a race this year, is eager to see if real progress has been made.
"It's been really interesting having the meetings that we've had, a lot of work's gone in," he said. "I'm hoping that coming here this weekend we can implement the things that we've learned.
"But we know it's going to be close, the Ferraris and Red Bulls were really quick here last year, I anticipate that will be the same. We have no idea where we're going to be this weekend."
Hamilton says that the real potential of the Mercedes W09 has been masked by the team's struggles with tyre management.
He added: "We believe [the car] is sound, that's not been the biggest issue. The tyres have been something that we're still learning about. One weekend we've got it, and the next weekend we haven't. The tyres are having a big effect I think for everyone.
"The car has been great, but in the last race it definitely wasn't performing the way it normally does. But again, I think that's also the tyres that really came into play. I'm hoping that if we can really get on top of the tyre situation we'll be able to show the true performance of the car.
The Briton said the team struggled to understand why it was so competitive in Australia, but less so in the subsequent races.
"I wouldn't say we lucked in in Melbourne, but we were more naturally on top of it," he said. "We put the car on track and it worked well. It was definitely easier to work the tyres. But the engineers could not explain why I was so quick in qualifying and why I was quick in the race and why others weren't.
"The Ferraris were slow in the corners and at the next race they were quick so they found something and it's most likely in the tyres.
"If you look at all the drivers, there's different speeds of out-laps, some drivers are taking two laps to get the tyres to work, some people are taking longer, some people are doing it on the out-laps, so there's different experiments people are doing."
Hamilton admitted that it was not easy to improve the situation given the limited track running available.
"It's very difficult to do it on the weekend, the sessions are quite short," he continued. "I definitely think that's an area that we need to improve on. And people can't blame it on the fact that we haven't done tyre testing, because we did tyre testing in the last year and we gave it just as much time and effort as everyone else.
"Some things you learn faster than others. This weekend I think our understanding is already better, and I hope that won't be the masking factor of our performance and I hope it won't hinder us as it did in the last race."
Mercedes to implement "short-term" fixes in Baku