Jul.18 (GMM) Marussia has not decided which engine to use for F1's new turbo regulations in 2014.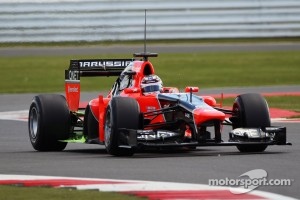 Max Chilton, Marussia F1 Team Test Driver
The back-of-the-grid team is currently powered by Cosworth, but there is speculation the independent British engine supplier is set to pull out of the sport.
When asked about Marussia's engine plans for 2014, chief executive Andy Webb said: "It's a difficult decision, because a lot will depend on the financial side."
There is great consternation among F1's 'customer engine' teams at present about the likely high cost of buying the new V6 engines.
"They're going to cost somewhere between EUR 10 and 25 million," Webb is quoted by the Russian website Championat.
"A team like ours will need some help in order to afford something like that."
Webb also revealed that, starting next year, Marussia has decided to use KERS for the first time.
"The only question is whose system we will have," he said. "It depends on what engine we choose for the future."