FIA press release
Fédération Internationale de l'Automobile - 2012 Malaysian Grand Prix Thursday press conference
DRIVERS: Pastor MALDONADO (Williams), Jean-Eric Vergne (Toro Rosso), Sergio PÉREZ (Sauber), Michael SCHUMACHER (Mercedes), Jenson BUTTON (McLaren), Fernando ALONSO ( Ferrari)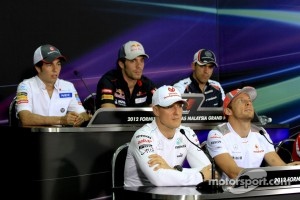 Pre-Event Press Conference
Pastor, after your performance in Melbourne, are you optimistic you can manage that at all circuits or do you think it was Melbourne-specific?
Pastor MALDONADO: I hope so. I think we did a great start to the season, we've been working so hard from the winter just improving our performance in the car. I feel very confident with the team, so it's looking forward. We can still be competitive though it is early to say but it's a good start to the season and we're looking forward, all of us in the team are pushing so hard, so we feel confident.
You must have been devastated by what happened on the last lap, what exactly did happen?
PM: It was a difficult moment for me because I was fighting with Fernando, it was a great fight and very clean and then the last lap I get too close, I was on the kerb on the wrong side of the track and I just lost the car. I'm disappointed for that because of the team result but nothing to do. I'm looking forward, y'know? It's a new place and a new challenge.
Jean-Eric, first of all tell us about the last lap, but also the first lap, because you had a bit of drama on both the first and last lap – and welcome to your first press conference.
Jean-Eric VERGNE: Thank you. First lap, I thought I had quite a good start. I was next to Mark and I don't really know what happened in the first corner but somebody hit my rear wheel and I went straight in the gravel. I think I lost a lot of positions and I finished the first lap in 17th. And then I made my way up through the field and I had good pace for the rest of the race. And the last lap was a little confusing. Everybody was in the same pack and I guess I tried a little bit too hard to pass a few people. Kimi was in front of me and… I don't even know who was in front of him but I lost position again to Daniel, my team-mate and in the last corner I slid a little bit and didn't have any KERS left and Paul di Resta passed me only by one-tenth.
Obviously looking forward to this race, what have you been doing since Melbourne and how have you prepared for this race?
J-EV: I heard this race was quite tough just because of the conditions, really hot, so I came here quite early, I arrived on Monday night and did some sport with my trainer, visited a little bit Kuala Lumpur and yeah, just getting used to the heat. I'm looking forward to this race. I think we have a good car, the team has me working quite hard and we're looking quite confident.
It was going really well 'til the safety car came.
Sergio, obviously a repeat of last year for you in Melbourne, making the tyre last all the way through with just one stop. How did you make it work and nobody else try the same strategy?
Sergio PÉREZ: To be honest I had no other option after the safety car. It came in the wrong moment for me. It was going really well 'til the safety car came. Then we had no option, because if I pit then I was going to lose many positions, so we decided to stay out and I managed the last 20 laps with really old tyres and it was a shame in the end on the last lap I lost two positions due to clash of Pastor. The track was impossible to go through because of yellow flags, I lift quite a bit and then I had contact with Nico and to the end of the lap I lost two positions with my team-mate and Räikkönen.
Looking at that midfield battle it looks incredibly close, everyone's made a step forward. Have you made a little bit more of a step forward, how do you feel?
SP: I feel really fine now in my second year. I know what to expect a bit more as well, everybody is very close also. The mid teams to the top teams, we are close so in some conditions maybe we can have some surprises from the mid-teams. Hopefully we can have a stable weekend this time, not like Melbourne. It was very difficult to prepare, especially the race. We went out there without knowing what to expect and it was of course difficult conditions.
Michael, the gearbox failure in Melbourne, obviously it wasn't something you expected but do the team think it's just a one-off, or is there a design problem? What's the diagnosis?
Michael SCHUMACHER: Well, it is a one-off. We did quite a few thousand kilometres in winter testing and never had this issue. We understood it though, and fixed it.
And there's no penalty is there?
MS: No, I took the penalty in the race.
Obviously there are a lot of positives from last weekend – what positives did you take from it?
MS: The basic positive is that we definitely have a much-improved car compared to last year. Still we have to learn it and understand it in all circumstances to take the benefit and the full performance from it, as we have seen in the race with Nico, so there is still something to learn, but we're positive that we can improve quite a bit, in race pace in particular.
Jenson, you've won here in the past, you were a winner last weekend, your teammate interestingly enough said you managed to switch the tyres on, that you seemed to understand the tyres better. Do you think that was your advantage last weekend?
Jenson BUTTON: I really don't know. I think we all try to do the best job we can with the tyres but personally I don't feel the tyres were a big issue for anyone in Melbourne. They seemed to be very consistent and we didn't have degradation like we do at other circuits, like here, so I feel that I had a good balance with the car, I had a lot of confidence in the car and yeah, I think the consistency was pretty good throughout the race. Obviously we had the scare with the safety car for us – it's always tough when you're leading by ten or eleven seconds, to suddenly find a car right up behind you again. But I think we made good use of the safety car in the end and were able to come home and get a very important victory for the whole team.
You've won here from pole and also had your first podium here. It's a circuit you quite like isn't it?
JB: It is. It's so different to last weekend, it's very fast and flowing, very smooth compared to a street circuit and the tyres. It's always more difficult for the tyres around here. But obviously we have the hard and the medium compound and they're both pretty hard compounds, so it shouldn't be too much of an issue. I think it's just the temperature and the humidity that will be the biggest issue for them. And it's one of those places where you really don't know what the weather's going to do. When I previously won here it was cut short, the race, because of a red flag. That's the thing here, normally it doesn't just rain, it chucks it down. So, if it does rain this weekend we hope we can continue racing because it's a great circuit.
Fernando, is that going to make a difference to Ferrari this weekend? Obviously a street circuit last weekend and you qualified some way down but a great race up to fifth. Hopefully the change of circuit will make a difference to you?
Fernando ALONSO: I'm not sure. Hopefully yes but I don't think so, to be honest. We have been testing at different circuits: Jerez, Barcelona and then in Australia with more or less the same car with the same problems on it. The cars are nearly identical for everybody compared with Australia, I guess, so I don't think there will be big surprises here. Let's wait and see, and try to adapt the car to the circuit, the conditions, the heat. Then, yes, as you said, the qualifying. We saw the true performance, we are not as competitive as we want, probably, but then in the race anything can happen. In Australia with a good start and the stops and the strategy you can put yourself in a decent place. We will try to do a similar race here and try to defend as many points as possible.
And this is a circuit where you got your first pole position, your first podium in 2003, you have two pole positions and two wins as well, a circuit you enjoy?
FA: Yeah, definitely. It will be one of my favourite circuits always because your first pole position in Formula One you always remember, the first podium you always remember, and both things happened here in 2003. So, it's a circuit I love to drive. It's quite technical and quite interesting. At the same time, after the accident of Marco [Simoncelli] last year racing here will be always sad, a little bit, knowing that one of our colleagues died here. It will be always difficult to race.