James Calado: "It was my first experience of driving a Formula One car in the rain and the conditions were quite difficult."
Adrian Sutil (FP1: 1:27.115, P15, 25 laps / FP2: 1:29.783, P15, 7 laps): "We tried a lot this morning and I was one of the cars to do the most laps. We ran through some different options with the set-up to try and improve our performance in the wet.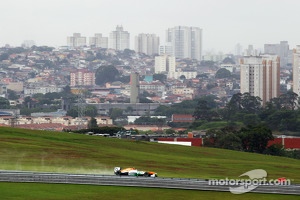 Adrian Sutil, Sahara Force India VJM06
I spent most of the morning on the intermediate tyres and stayed on the same set for the afternoon to make sure I have some new sets available for qualifying and the race.
After such a busy morning we didn't run so much this afternoon and my performance was compromised by using the old tyres. So I think it's fair to say that my laptime in FP2 is not that representative. The most important thing was to understand how the tyres work in the wet."
Paul Di Resta (FP1: Did not take part / FP2: 1:29.174, P13, 11 laps): "After missing the morning session I did my best to get up to speed quickly with the wet track. The balance on the intermediates is not too bad and I think we know the areas we need to improve tonight. So it looks like we are in reasonable shape and the car appears to be working better in the wet conditions compared with earlier in the season. I didn't get the opportunity to complete the ideal lap this afternoon so I think there is more time to come from the car tomorrow."
James Calado (FP1: 1:27.436, P18, 9 laps / FP2: Did not take part): "It was my first experience of driving a Formula One car in the rain and the conditions were quite difficult. It was important not to take any risks so I held back a little bit, but I was reasonably happy with my pace and ended up just three tenths away from Adrian. I only managed nine laps, but that was enough to give the team some data and give me experience of the damp track conditions. It was also my first time at Interlagos and my initial impressions are positive. It's quite high-speed with some fast and flowing sections, and it's also quite a technical lap."
Sahara Force India