Ferrari signed Leclerc until at least 2022
Maurizio Arrivabene says promoting Charles Leclerc from Sauber to Ferrari is a long-term project, and revealed that the Monegasque driver is signed up until at least 2022.
Arrivabene revealed the parameters for an eventual move to a race seat with the Maranello team were included in Leclerc's original young driver contract.
"I signed with Charles in November 2015 the first contract in the Ferrari Driver Academy," he said. "In that contract we already designed and committed and signed and wrote his future in F1, as we have done with [Antonio] Giovinazzi, the same thing.
"And that means we change a bit also the way that we organise the Ferrari Driver Academy but also how we are going to develop the talent for the future.
"So Charles Leclerc is not a big surprise, he's one of the talented drivers that we have in F1.
"Thank God, it's a guy that he grew up with us and I hope that he is going to continue his career with us, at least until 2022 for sure.
"When you make some choices like this, that are related to the driver, you don't have to look only at the short-term commitment, but also at the long-term commitment."
Arrivabene insisted that in the end it was his decision to replace Kimi Raikkonen, and that it didn't reflect badly on the Finn.
"It's not a decision taken by Mr [Homer] Simpson; it's a decision taken by me, [I discussed] it also with the top management, that is taking into consideration many, many factors.
"This has nothing to do with the respect that I have for Kimi, that is great, as a human being and a driver, but if you have to do a choice, thinking about the future of the team, I think we made the right choice, for us and for Kimi."
Arrivabene insisted that Raikkonen understood the explanation when he was told he was being dropped, and added that he didn't expect the decision to have any impact on the Finn's approach over the rest of the season.
"I have to say that the relationship with Kimi is so good that he understands. It's not only a question of telling him this is the decision.
"If you do my job properly, it's to take him through the process, and I took him through the process of the decision and he didn't even try to say, 'Yeah, I would like you to change your mind,' or something.
"He's a professional driver. Then I heard many other things like 'Ah, you know, telling him in Monza was the wrong time.'
"Think about if I had told him in Belgium and Sebastian was winning the race? Kimi was in the same position and then it was wrong to tell him in Belgium.
"So the right time is not written on the paper, but what is written on the paper is that when we sign contracts with a driver, we sign a contract with professional drivers.
"I always talk with my two drivers as professional drivers and I'm expecting from him the maximum of professional effort and to use all their professional skills and Kimi is one of them."
He joked: "Kimi was so nervous and so unhappy that I told him on Thursday, if I'm not wrong, in Monza but he was so unhappy that he made pole position on Saturday! We're talking with professional drivers."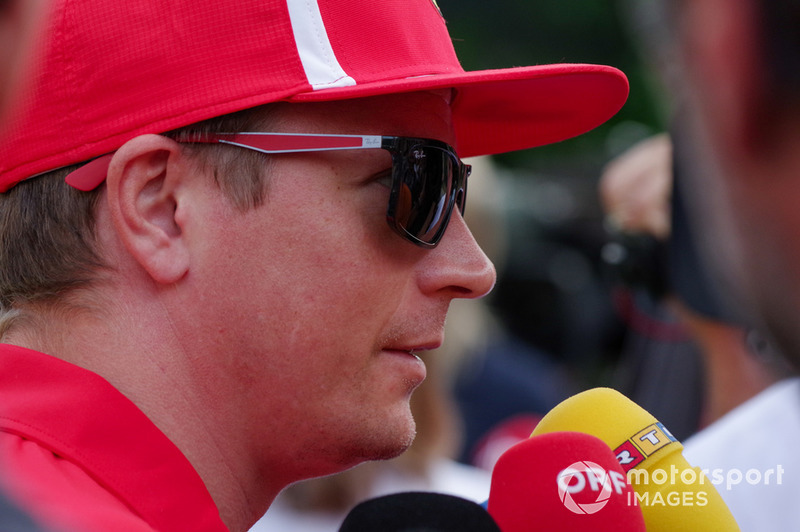 Kimi Raikkonen, Ferrari
Photo by: Jerry Andre / Sutton Images
Ferrari signed Leclerc until at least 2022