Get alerts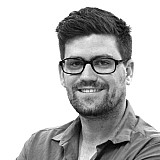 Daniel Ricciardo says a lack of off-season gain from the Renault power plant is no concern to him and the team at this stage of the pre-season.
The Aussie admitted after the first day of testing at Barcelona overnight that the Renault engine feels the same as it did at the end of last season. However, he also says that's not necessarily a bad thing.
"It pretty much feels like we ended last season, which isn't a bad thing I think on Day 1," he said.
"It's a much better platform to work from than what we had this time last year. It was good – there wasn't any sort of whiplash or anything like that.
"We're still not on race trim in terms of power and we don't have all the bits bolted on at the moment – for now it's as expected. The team said 'expect something similar to last year for the first test at least' and it's pretty much that for now."
Reliability the key
According to Ricciardo, it was banking 87 laps that left him pleased at the end of the day, even more so than the fact he was third fastest behind Sebastian Vettel and Lewis Hamilton.
"I think we had a few little things here and there, but we still managed nearly 90 laps today," he said.
"I think generally, it's a good first day. Just for me, I'd say it's a day of testing reliability, for me seeing how I am after a long off-season and how the body is, and for the team it's seeing how the car is. Where it's reliable and where not so.
"With the few little issues we had, we still managed to get some good long runs. I think that was important today, to get some good 15-lap runs to make sure the car is not overheating or doing anything silly.
"We can then find the pace, I think, quite easily, it's just the reliability that's the first thing you want to try and solve."