How plane seat mix-up left Red Bull even more won over by Verstappen
When Max Verstappen was told that his business class seat back home from last year's Canadian Grand Prix had been double-booked, and that the only space left was down in economy by the toilets, you could have forgiven him for kicking up a fuss.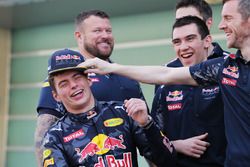 But if there is one thing that his team has learned from the Dutchman's arrival as a Formula 1 superstar, it is that his new-found status has not gone to his head.
So instead of moaning about what had happened, Verstappen shrugged his shoulders, realised that there are far more important things in life to get upset about it and got on with it.
For allied to his blistering speed on track, it is Verstappen's off-track attitude and enthusiasm that has won him great fans at Red Bull – and left the team confident that he and Daniel Ricciardo are well placed to not hit the self-destruct button if they find themselves fighting for the world champion hip in 2017.
Red Bull boss Christian Horner told Motorsport.com: "Max is very, very good - and he's so enthusiastic about everything. He's like a Labrador puppy that just wants to get into everything.
"Whether that's the history of the sport, whether that's what's going on in the junior formulas, or in karting, he loves his racing. He feels privileged to be a Formula 1 driver.
"There was an instance earlier in the year where flights from Montreal ended up getting double-booked and there were no business class seats available. So he ended up having to sit down by the toilets in economy.
"With others it would've been a major issue, but [with Max] it was no issue at all. We got: 'No problem, if that's what's available, I'll do it, I'll go down there'. And I think that's what's so refreshing about him. It's just enthusiasm for being a Formula 1 driver and doing what he does."
On-track tension
Of course, to suggest that Verstappen is so easy to deal with on all occasions would be wrong, because when the helmet is on, his determination and fighting spirit come out.
And there were times in 2016 when things did get difficult – like at the Hungarian Grand Prix when a pre-race agreement - that the Red Bull driver running second would drop back to hold the field up and help the lead car get away - fell by the wayside.
Instead, Verstappen stayed close to Ricciardo's gearbox and famously claimed on the team radio that he could not go any slower because he was already driving like his 'grandma'.
The incident caused tension at the time but overall Horner thinks that Verstappen and Ricciardo learned through last season how they need to behave.
["Hungary was] very minor," said Horner. "I mean, they work very well together. If you look, we switched the drivers around in Hockenheim. Everybody said that Max wasn't a team player, and that day demonstrated very clearly he was.
"And then of course the favour gets dealt back in Mexico. Just the way they've raced this year, whether it's the first turn at Hockenheim or many circuits that we've been to, they've been clean but fair.
"That's why I felt very comfortable letting the two of them race in Malaysia, even when it became for a grand prix victory after Lewis' engine issue. At no point has there been any concern about how those two race each other."
The bigger issue for Red Bull is dealing with the times when external factors – like the strategy call in Barcelona of the pit stop error in Monaco – ultimately hurt one driver more than the other.
"You know, issues happen," added Horner. "For me Barcelona was very straightforward, because that was just a straightforward strategy that on the day could go for you or against you. You know, Monaco hurt a lot more, it hurt the team just as much as it hurt Daniel.
"He could see that, he responded very positively to that. Very quickly after that... it didn't affect his season at all, I would say. He brushed himself down, got on with it and just drove some fantastic races."
Title rivals
But while Red Bull has come through a 2016 campaign without too many difficulties, things could become much harder if Verstappen and Ricciardo find themselves as rivals for a world championship.
F1 knows only too well – from the way that the Lewis Hamilton/Nico Rosberg relationship developed – how strong bonds can break apart totally when teammates become title contenders.
Horner is hopeful that the relationship between Ricciardo and Verstappen is strong enough to weather such circumstance – but he knows it would be foolish to expect things not to change.
When asked if it will be easy to keep things on an even keel if Ricciardo and Verstappen are gunning for the title, Horner said: "Probably not. But I think the biggest thing that exists between the two of them is a clear respect. They have great respect for each other.
"On top of that, they actually quite like each other. That's not a requirement from the team, it's just that they live in the same building in Monaco and Daniel has been a little bit like a big brother to Max, outside of the car.
"Inside the car, they're both as hungry as each other, they both want to win and they'll both race each other hard. But as long as it's hard but fair, that's fine by us."
Judging by the plane seat mix-up last year, though, Red Bull should not have too many worries about it having troublemakers inside its camp.
Subscribe and access Motorsport.com with your ad-blocker.
From Formula 1 to MotoGP we report straight from the paddock because we love our sport, just like you. In order to keep delivering our expert journalism, our website uses advertising. Still, we want to give you the opportunity to enjoy an ad-free and tracker-free website and to continue using your adblocker.
Become a subscriber.
Disable your adblocker.