Get alerts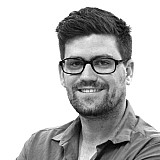 Part of Formula 1's brave new world of fan engagement is the two-seater programme that's set to become a GP weekend staple next season. Luckily, there's nine years worth of two-seater experience in Australia to call on…
There's a lot of hype around the two-seater programme at the moment, as former Minardi boss Paul Stoddart prepares to take his slick show on the road to each and every Grand Prix next year. He's even hired Mike Gascoyne to give the cars an aesthetic birthday.
But anyone who's been to an Australian Grand Prix at any point over the last nine years will tell you that the concept isn't entirely unique. In fact, anyone who has lived in any inner-city Melbourne suburb within a V10 scream of Albert Park within the last nine years can tell you all about the 'Minardi' two-seater – otherwise known as Melbourne's Grand Prix weekend alarm clock.
You see, since 2009 the V10-powered two-seater has been a regular visitor to the AGP. And it's famously been locked in to an early morning track allocation, which means that at around 7:15am from the Thursday before the race onwards, a Cosworth V10 can be heard far and wide around the city and its surrounds.
So while the scale of taking the two-seaters to Formula 1 races around the world is new, the idea itself has been well-honed down under.
"We started looking at it in 2006," Craig Fletcher, the AGPC's General Manager – Motorsport and Entertainment tells Motorsport.com.
"I thought it would be a good idea to try and get the two-seater over – not really understanding what the costs might be. In 2008 we got very close to bringing it over but we didn't quite get there, and then 2009 was the first year that we got it over.
"It came through a discussion with Paul Stoddart. Paul has a passion and great love of Australia. So he was very supportive of getting the programme up.
"When we started in 2009 we had about 25 passengers each visit. We're now up to about 40 passengers per event, which includes everyone from VIPs, sponsors, celebrities, promotion winners and so on.
"Having stood next to the car for almost each and every session, I'm never ceased to be amazed by people's faces when they get out. It's the experience of a lifetime. While the car is getting a bit old now, the sound and experience of being in the back of a Formula 1 car is something you never forget."


Australian GP model used as a blueprint
As the back of the ticket always says, motorsport is dangerous. Getting people not routinely involved in the sport inside a racing car and out on a race track is an arduous task at the best of times. When it's a Formula 1 car, it's even more difficult.
"When we got the car over in 2009, and we put together the indemnities, the safety requirements, and the medical checks," adds Fletcher.
"We worked with the Alfred Hospital and our chief medical offices at the time and created a medical indemnity that people fill out. We put the whole programme together."
And that's considering it just from an insurance perspective; there's also the operational burden of effectively running two high-maintenance Formula 1 cars across a race weekend, even if they're not actually racing.
Between the AGPC and Stoddart the entire process has been refined over the best part of a decade. So it's little surprise that FOM hasn't just borrowed the idea from Australia, but used the AGPC's processes as a blueprint for its own worldwide two-seater programme.
"We had Chase Carey, Sean Bratches and Ross Brawn at our event this year and it was a great opportunity for them to see how we do it in Melbourne," says Fletcher.
"They had heard a lot about Melbourne and were very keen to look at as many elements of the event as they could. One of them was the two-seater programme.
"A few months earlier there had been some discussion with Paul about wanting to do this kind of programme, and Paul said 'we've got nine years under our belt with the Australian Grand Prix Corporation and we've pretty much got it down pat'.
"Spain was the first time they ran it, and that all came together very quickly in Formula 1 terms. Paul went out and purchased all the additional equipment that he thought he'd need to put on a show at a level that Formula 1 was looking for, so everything was coming together quite quickly.
"I had some communication from Formula 1 where they said that any of the existing documentation that we were able to share would be greatly appreciated – which we did under all the legal privileges.
"We were more than happy to help Formula 1 because Australia and Melbourne has always seen this as a great asset. You can't get much closer to being a Formula 1 driver than sitting in the back of a Formula 1 car. So we've always encouraged its use, and we're quite excited that Formula 1 is going to take it around the world."


New deal prolongs Albert Park programme
Ironically, the FOM programme could act as a lifeline for the two-seaters at the Australian Grand Prix.
Fletcher admits that there was a chance that the event alone wouldn't have been able to continue on next year, but with Liberty now behind the plan the future is significantly more secure.
"We thought that this year's event might be the last year for the programme. Paul was coming to a point where he thought we may have done everything we could do with it," he says.
"Neither of us were sure, we've always done it on a year-by-year agreement. Paul has told me on many occasions that if we shake hands on something, it's going to happen.
"Moving forward now, we're in dialogue with Formula 1 about how the deal might work. One of their people used the term 'we know we pinched it from you so we're happy to share'.
"We're just working through how it might all come together, how do we marry our existing deal up with the new deal and make sure that it works for everyone.
"We're very mindful that what Formula 1 is doing with the two-seater around the world is important and that it's fantastic for the sport."
That means more of the not-so-accidental V10 alarm clock next year and beyond.
"The early morning sessions have become part of folklore," laughs Fletcher.
"Our former Chairman at the time Ron Walker said it was a classic way to let all Melburnians know that the Grand Prix was in town."