Honda can match Renault by end of year, says Red Bull
Red Bull believes Honda's Formula 1 engine has the potential to be at Renault's level by the end of this year, heightening speculation that the team could switch power units in 2019.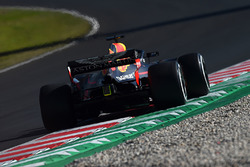 Sister team Toro Rosso has enjoyed an encouraging start to its new relationship with Honda, having enjoyed a trouble-free pre-season testing programme at Barcelona.
And while Honda is still behind in the power stakes with its current specification engine, sources have suggested that the gap to Renault could be as little as 15bhp heading into the year.
With further development in the pipeline over the course of 2018, the door is open for Honda to close up even more, with Red Bull motorsport adviser Helmut Marko suggesting there will be little to choose between the two power units by the end of the season.
"The Honda package is technically interesting," Marko told Motorsport.com. "The engine is very light and now the reliability is there. They speak of continuous performance improvements.
"The engine should be at Renault level by the end of this year."
Red Bull's current contract with Renault runs out at the end of this season, and that means the Milton Keynes-based team will have a choice of which engine it wants to race with in 2019.
Red Bull boss Christian Horner said that the final decision on which engine its takes will be driven not by emotion but by pure performance.
"The situation varies with Renault almost monthly," said Horner. "But we are used to that. We've known them a long time.
"We have got a respect for what they do: and the most important thing for us is having the most competitive package going forward.
"We want to be in a position to continue to close the gap to the teams ahead and get onto the front foot.
"Obviously we are in a position for the first time in probably the last 10 years that we have a choice moving forwards.
"And that is a position that we have not been in for a long, long time. There has either been a veto or a block or a non desire from supplier to supply."
Pushed on what Honda would have to do to convince Red Bull it was a viable solution for next year, Horner said: "I think they have made very good grounds over the winter.
"We have got a front row seat to see how that product is developing that performing with Toro Rosso. And it will all come down to performance. We want the most performant engine in the back of the car."
Marko said he was impressed with what Honda has done this winter to get things back on track, and how it plans to move forward throughout the season.
"We are aware about the scheduled spec steps," he said. "I think that collaboration between Toro Rosso and Honda is very good, because we didn't just tell the Japanese what the engine should look like.
"Immediately after signing the contract there was an exchange of technicians between Faenza, Sakura in Japan and Milton Keynes, where Honda also has a small factory.
"That's where the current car and the engine installation were discussed and actually done. And I believe this partner-like approach has contributed a great deal to the result we have now."
Additional reporting by Christian Nimmervoll
Honda can match Renault by end of year, says Red Bull