Both drivers ran with new front and rear wing specifications today. Romain also ran with the older specification front wing for evaluation purposes, Kimi evaluated new rear suspension components.
Kimi Räikkönen went fourth fastest at the Circuit de Catalunya on the opening day of action for the Spanish Grand Prix. Kimi set a 1min 23.030secs lap on medium compound tyres in the dry afternoon session.
In the changeable conditions of the morning session Romain Grosjean was fourth fastest, but a cracked exhaust precluded him from setting a representative lap on the quicker medium tyres in the afternoon.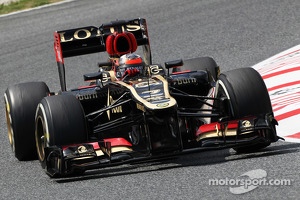 Kimi Raikkonen, Lotus F1
Kimi Räikkönen
(Free Practice 1: P8, 1:26.614, 21 laps / Free Practice 2: P4, 1:23.030, 32 laps): "It was a pretty normal Friday. We tried some things on the car, ran with some different tyres and we'll have a look at all the data to see where we think we are.
We finished the day not too far off the fastest time, so we can say that the day wasn't a disaster, but for sure there are some things we have to improve with the car which is normal after the first day's running."
"The circuit isn't an easy one to understand in terms of tyre performance"
Romain Grosjean (Free Practice 1: P4, 1:26.042, 21 laps / Free Practice 2: P18, 1:25.851, 36 laps): "Today was okay. It may not look great on the timesheets, but we didn't finish our lap on the medium tyres as I had to come back in.
The circuit isn't an easy one to understand in terms of tyre performance as there is a lot of degradation, and of course this morning the weather conditions made things a bit difficult.
We completed a good number of laps to collect as much data as possible, so we'll be working on the set-up this evening where we should be able to take some steps forwards."
Alan Permane, Trackside Operations Director: "We're pretty happy with today's performance. Romain's position in the afternoon session is not representative of his potential as a cracked exhaust cost him performance for his run on the softer tyre, but other than that he's comfortable with how his car is performing.
Kimi was happy with the handling and balance of his car and that's reflected in his pace. The morning rain was actually beneficial for us as it afforded an opportunity to run our latest developments aimed at addressing a relative lack of wet weather pace, and we're happy with the progress made in this area."
Lotus F1 Team