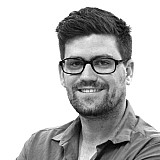 Friday's wet weather in Melbourne has left the Haas F1 team "not as prepared as it should be" ahead of the Australian Grand Prix, according to team principal Gunther Steiner.
With both of today's practice sessions marred by inconsistent weather conditions, meaningful running was kept to a minimum as the new Formula 1 season kicked into life in Melbourne.
That was particularly bad news from Haas, F1's newest team left feeling significantly underprepared after a low-key Friday.
"Today was one of those days when you are happy to see two cars going out, and you know you have done what you were working a long time on, but then with these weather conditions you get to the evening and you are not happy – because you haven't done enough," Steiner told media after FP2.
"We didn't get enough data, we didn't test enough; I still think we are not as well prepared as we could be.
"And I'm not just blaming the weather, you have to blame yourself. Today the weather was not helping. I don't want to use it as an excuse, because it sounds like an excuse. But it was not helping.
"If you're trying to understand the car, and every time you go out there the conditions change, it's like whatever you learn, is it real? Do I believe it, or not? Because every time the drivers say something different. Is it the car, or is it the weather? It is really inconsistent.
"Between wind and rain, you cannot have it worse. I hope tomorrow is better."
Risk-free the priority
With a relative lack of spare parts on board, Steiner admitted that today's focus was on limiting risks, even if that came at the expense of some data collation.
"We cannot have two crashes with the same car," he said. "We have at least one of each part, most of them two - so for each car one set, but we cannot take big risks.
"If we had damage today or tomorrow… the last thing we want is to miss the race. That would be silly to come here in these conditions and take risks. That was the biggest thing today; do not take any risks."
And with more rain forecast for tomorrow, the same policy is likely to apply for FP3.
"The possibilities to learn are very small so there is no point taking risks," he added.
"We will just try to make sure the car is ready for qualifying, and be done with it. Because if we damage a car, or do something stupid, we can not go out immediately in Q1.
"I think we'll take less risks tomorrow than we took today – if the weather conditions are similar."
Not ruling out Q2 appearance
Despite a lack of running today, Steiner is refusing to rule out a Q2 berth tomorrow – particularly with the new format set to be used for the first time.
"We will try hard to get into Q2, absolutely," he added.
"With the new format, we may have a better chance. Because somebody else could mess up as well. It's not only us that could mess up at this point, somebody else could as well."