Grosjean poised for Haas confirmation
Romain Grosjean will commit his Formula 1 future to Haas immediately after the Japanese Grand Prix, unless Renault is able to complete its planned takeover of Lotus by then.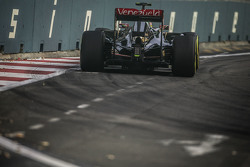 The Frenchman has been eager to become a part of a new Renault works effort in F1, but the situation regarding the manufacturer's takeover of the Lotus squad has still not been resolved.
Sources have revealed that Grosjean already has a framework deal in place with Haas for 2016, which comes as part of a wider deal the has been agreed in partnership with Ferrari.
The tie-up with Maranello would put him in a strong position to make himself a candidate for replacing Kimi Raikkonen in 2017.
September deadline
Grosjean has not yet signed the Haas/Ferrari contract, but has told his current bosses that he will move on for 2016 if there no firm race deal in place with Renault before the end of the month.
Sources suggest his mind is clear though and, despite holding out until next week, he is likely to take up the Haas offer whatever the developments on the Renault side.
Renault motorsport chief Cyril Abiteboul suggested he was resigned to losing Grosjean now.
Speaking to French TV station Canal+, he said: "It's a shame we couldn't talk about it, but we maybe were not ready in time. It's all about timing.
"Romain is a great driver, he deserves a great team. There's no national bias, we wouldn't stay in Formula 1 for a particular country or region. 
"Renault is an international brand, especially in countries like China and in Southeast Asia. But we're on a project which necessarily needs a little French touch. There are young Frenchmen pushing, so I'm not worried."
Renault hurdles
Although Renault's planned takeover of Lotus is at an advanced stage, Motorsport.com understands that the finances of the deal have not been fully resolved.
In particular, Renault is still chasing a step-up of financial contribution from FOM to recognise its historical success and contribution to F1. Should it fail to get that increase, it is thought that Renault chairman Carlos Ghosn will not give his approval to the deal.
Despite there being no set deadline by which date Renault must make a call, the fact that Lotus is facing a crunch high court hearing in relation to outstanding debts to HRMC in London on September 28 means the situation must move on quickly.
Mind made up
Grosjean himself has been coy about the specifics of his future plans, and has only confirmed that his mind is set on what he is doing.
It is understood this refers to the timescale of his decision-making process in ensuring he has a 2016 race deal done by September 30.
"My mind it set," he explained. "You will know by the end of the month, so not long to wait. After Japan you should know, hopefully."
Secure future
Although he cannot say with certainty which team he will be racing for in 2016, the situation with Lotus/Renault and Haas does at least mean Grosjean has a race deal guaranteed now.
Speaking to Motorsport.com about his relief at knowing his F1 future is secure, Grosjean said that it "felt good".
In 2012, I didn't know [about my future] until very late in the year," he recalled. "I was very quick but made some mistakes. 2013 was a bit more straightforward because we signed a contract with Lotus for a long time, and last year was a bit of a rollercoaster with the financial situation.
"Now we are in September, I know what we are going to do, and that is quite nice."
Driver market implications
Should Grosjean go to Haas, then it is highly likely that he will team up with Esteban Gutierrez.
That will dash the hopes of Kevin Magnussen and Jean-Eric Vergne, who had set their sights on an opportunity with the new team.
However, both would likely switch their focus to taking the seat vacated at Lotus by Grosjean. The Enstone-based team has already confirmed that Pastor Maldonado is staying.
The other contender for Lotus could be Sergio Perez, who has long been linked with Renault's plans in F1. 
The Mexican insists he is close to finalising a deal to remain at Force India, but the delays in firming that up could indicate that he is waiting for Renault to clarify its plans.
Grosjean poised for Haas confirmation