Formula 1 "still nowhere" with social media
Formula 1 is still "nowhere" compared to rival sports in the world of social media despite reporting a huge boost in interaction, according to Pat Symonds.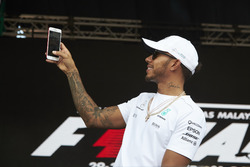 Last week, F1 reported it had 11.9m followers on Facebook, Twitter, Instagram and YouTube, which represents a rise of 54.9 percent on 2016.
The championship made a big push with its social media and digital platforms last season, relaxing some of the restrictions for F1 teams regarding video content on social media.
It has also significantly increased the amount of video content it makes available on its own platform.
F1 said the minutes spent on Facebook were up over 1600 percent compared to 2016 while there were 64m views of its video content on Twitter, which is 165 percent up year-on-year.
But former Williams chief technical officer Symonds joined the team of specialists working under new F1 sporting boss Ross Brawn last year who are tasked with helping define F1's future direction said there was so much more that could be done.
"When you read it, it looks like good news but in reality, we are nowhere," he said when speaking at the MIA's Entertainment and Energy-Efficient Motorsport Conference.
"We're so far behind. If you just look at Facebook, Mercedes are there at over 10m against 95.5m for Barcelona Football Club.
"We're nowhere in F1. It's the same with the drivers. Lewis [Hamilton] has four million followers on Facebook while [Real Madrid footballer Cristiano] Ronaldo has 11.8 million.
"We have so far to go in these areas. At least we're aware of it now. Prior to Liberty taking over, I don't think this crossed Bernie's mind at all."
F1 bosses are currently evaluating their social media plans for the coming year, as it bids to boost engagement further in 2018.
Formula 1 "still nowhere" with social media