Circuit Gilles-Villeneuve
Tomorrow's Canadian Grand Prix will see Paul Di Resta start from P11, while teammate Adrian Sutil lines up in P14.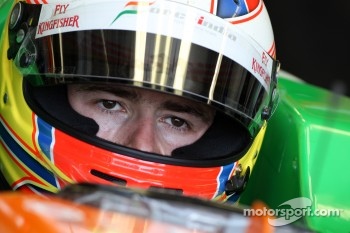 Paul di Resta, Force India F1 Team
P11 Paul Di Resta (VJM04/02)

Paul: "We were very close to making it through to Q3 today, but in the end we had to settle for P11. Maybe the tyre strategy we opted for was not optimal for qualifying, but I've managed to save a set of new options for the race so hopefully that will help us tomorrow. I also lost a couple of tenths at the second chicane on my final lap and without this I could maybe have squeezed into Q3. But to be honest there wasn't much more to come. P11 is a good place to start from and it's probably better to be on the clean side of the track. We've been competitive here since the start of the weekend and I'm sure we can have a good race tomorrow and hopefully score some points."
Q1: 1:14.874
Q2: 1:14.752


P14 Adrian Sutil (VJM04/04)

Adrian Sutil, Force India F1 Team
Adrian: "It hasn't been the easiest of weekends so far, but I was still hoping for a bit more from the qualifying session. Unfortunately I made a mistake in the hairpin on my last lap. I hit a bump under braking which caused the rear tyres to lock and I slid wide. The race tomorrow will be a little bit of a step into the unknown for me because I didn't manage to do any long runs on high fuel during practice and it's difficult to judge race pace. We also don't know what the weather will do, but there is a high risk of rain. I will be pushing hard whatever the weather."
Q1: 1:14.931
Q2: 1:15.287


Robert Fernley, Deputy Team Principal


"The high-speed layout of this track always seems to suit our cars and once again this year we've been running in or close to the top ten in most of the sessions.
Adrian has done well to recover from a lack of running
Paul has done a good job of learning the track and has steadily built up his pace throughout practice. He only narrowly missed out on making it through to Q3, which is a great effort considering this is his first visit here. Adrian has done well to recover from a lack of running following his problems yesterday, although he lost a few tenths on his final lap, without which he could have been alongside Paul. Overall I think we can be pleased with our showing today, which leaves us well placed to bring home a strong result tomorrow."

Source: Force India