Nancy Knapp Schilke, Editor in Chief
Sepang gear box change cost Hamilton front row while Vettel sits out final shootout in Shanghai
Qualifying for the Chinese Grand Prix pole was filled with surprises. Nico Rosberg laid down his hot lap early in the top ten shootout, and the German's time of 1:35.121 was good enough that he climbed out of his Mercedes WO3 before the end of the final qualifying sector.
"The lap time was very, very strange. I had no idea if the track got a lot better or what was going on out there, so I was just hoping, 'come on, let that be enough, please' and it was, so it was good," Rosberg explained.
It really shows that, as a team, we're moving forward.
In the third round of the 2012 FIA Formula One championship, Keke Rosberg's son earned his first career pole in the premier series. It also was the first pole for the Mercedes factory team. "This is fantastic, a great job by the team," smiled the pole winner. "It went really well, it's a very special feeling definitely. Now obviously looking forward to starting first tomorrow."
Rosberg appeared relaxed, and knew that even if Lewis Hamilton did overtake the German for the fastest qualifying time, the penalty for the Briton would not see the McLaren-Mercedes driver on the coveted pole. Indeed Hamilton finished second fast with a time of 1:35.626 and appeared to back off on his final lap; but it will be Rosberg's famous teammate that will start alongside him on the front row.
"I'm really happy for the whole team. It really shows that, as a team, we're moving forward. In qualifying we're very, very strong now. In the race we're still not quite as strong and not where we want to be yet but also there, we're learning a lot and progressing fast. The thing is we can't make huge jumps in a couple of weeks, it's going to take a bit more time, but we're getting there," added Rosberg.
Michael Schumacher was third fastest in the shootout for the pole with his best lap of 1:35.691 but he did clinch the front row for the Mercedes factory team; the last time that the German manufacturer swept a front row start in Formula One was the 1955 Italian GP.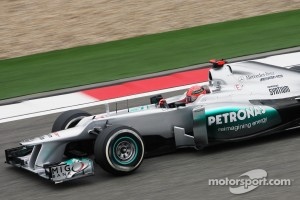 Michael Schumacher, Mercedes AMG F1
When asked about his thoughts once he learned of Rosberg's hot lap, the seven times world champion said, "… that was a phenomenal lap time. For all of us, to see the gap that big is a bit of a surprise but there you go. He's known as a good qualifier and no reason [for me] to be unhappy. The opposite: happy for him for his first pole.
"Congratulations as we know - I guess - it's going to be the first [front] row of a proper Mercedes Silver Arrow that we're going to take place in the Shanghai Grand Prix tomorrow. That's a great achievement," added Schumacher.
Norbert Haug, vice-president, Mercedes-Benz Motorsport was delighted with the outcome of qualifying and commented, "What a fantastic lap from Nico for pole position - in his single attempt in Q3, he was half a second quicker than anybody else, which speaks both for him and the team. A big thank you to everybody from Mercedes AMG Petronas for a great job and for all the relentless work that they are putting in to continuously improve our performance."
Hamilton lost five grid positions due to a gearbox change penalty at the Malaysian GP and will start seventh. "Very big congratulations to Nico [Rosberg] today. We first met back in 1997 and were team-mates in 2000. We've been good friends ever since. When we were team-mates, we always dreamed of qualifying first and second together in Formula 1 – and it's crazy that we did that today.
"Looking at the race, we've got a good car but I'm going to have to work my way up through the field tomorrow. But as long as I move forward in the race, I'll be happy. This is a track where you can overtake, and we've got DRS too – so I'm massively excited about tomorrow," added Hamilton.
Kamui Kobayashi, Sauber F1 Team
Starting third with the fourth fastest lap time will be Kamui Kobayashi for the Sauber-Ferrari team with his best time of 1:35.784; it is the Japanese driver's best Formula One grid position. He commented, "I am very happy, the team did a great job. For quite a while we have kept saying we need to improve our qualifying performance, and I think this was a clear improvement today. This grid position obviously means a lot of chances. However, I am not a dreamer and the target remains the same: score as many points as you can. We have a strong car, normally it is also good on tyres and I am looking forward to the race full of confidence."
Kimi Raikkonen will take the standing start from the second row in fourth position. The Finn was fifth fastest in his Lotus-Renault with his best lap time of 1:35.898, and was clearly unhappy as he said: "The grid position is okay but when you look at the times, I'm disappointed with the pace of the car today. We've gained a position after Lewis's penalty but the speed wasn't where it should have been, especially when you look at the pole time. We've tried some updates this weekend, but they haven't worked as we wanted so we've gone back to how the car was before."
McLaren's Jenson Button did not have one of his best days but he also inherited a better starting position, thanks to his teammate. His qualifying lap of 1:36.191 was sixth fastest but the Briton will start fifth on the grid. "Of course, that's a little bit disappointing, but our race pace seems to be very good. It's going to be tricky to get heat into the front tyres if it's cold tomorrow though – but then that's not unusual for me. But that's the way it is and I hope we can have a good race from fifth on the grid," he said.
Red Bull's Mark Webber was in the hunt during all three segments and in the end he ended up with a best lap time of 1:36.290 in his RB8-Renault. "The Q2 lap wasn't bad, but I didn't get the Q3 lap together as I would have liked. It's a bit all over the place with pulling a lap time together on the soft tyre, but I would have liked to have finished a row further up. The 1m35.7 in Q2 was a good lap, but I maybe tried to eek a bit too much out in Q3. It's frustrating. We know we have a good race car, so it will be interesting to see how it unfolds tomorrow. It's very close and we'll keep pushing," said the Australian.
The final two drivers who contested the third segment for the pole were the same two who challenged one another for the win in Malaysia. Sergio Perez for the Sauber-Ferrari team ended up one grid spot above Ferrari's Fernando Alonso. The Mexican racer's best lap was a 1:36.524 while the Spaniard clocked his best lap at 1:36.622.
"It is obviously a good qualifying result for our team. Personally I must admit I even hoped for more than P8. After the previous runs had been very promising, on the final lap in Q3, when I was on a fresh set of soft tyres, I suddenly had understeer. I don't know where this came from. In any case it will be a tough race tomorrow and I will give it my best," said Perez.
Alonso barely made it into the third and final qualifying segment and he said, "We managed to get into Q3, staying ahead of Vettel by a few thousandths. Then, from Q2 to Q3, the wind changed direction and that was penalising. The car is what it is and the improvements we brought here are not sufficient to produce a jump in performance and so this position corresponds more or less to our current potential. Sure, we cannot be happy to be a second off pole position, but all we can do is work to try and close this gap."
The two time defending world champion, Sebastian Vettel, did not make the final top ten cut in the shootout for the pole. The Red Bull driver barely made it into the second qualifying segment, and then the unthinkable happened when the German missed the top ten list by a mere 0.049 seconds. He was not alone as Ferrari's Felipe Massa also failed to post a time that would allow him in the final challenge for the pole.
We weren't fast enough and we have to accept it.
Vettel commented: "There was no problem with the car, but I couldn't get the final few tenths. I was happy with the laps I did in Q2, but they weren't quick enough and we couldn't make it in to Q3. We have a long race ahead of us tomorrow and the car did feel good, so in terms of race pace we should do better tomorrow. We weren't fast enough and we have to accept it. We start from P11 tomorrow and see what we can do from there."
It was the two Sauber drivers who, along with Vettel's own teammate Mark Webber who set laps near the end of the second qualifying segment who shut the door on the twice consecutive champion. Just one slot above Vettel but still not making the cut was Romain Grosjean for the Louts team. Joining Grosjean, Vettel, and Massa on the sidelines were both Williams' drivers Pastor Maldonado and Bruno Senna, Paul di Resta and Nico Hulkenberg for the Force India team, and Scuderia Toro Rosso (STR) driver Daniel Ricciardo.
The first seven drivers who were eliminated at the end of the first qualifying segment was not a surprise; especially for the rookie drivers. They included STR's Jean-Eric Vergne, both Marussia drivers Timo Glock and Charles Pic. Also out were Heikki Kovalainen and Vitaly Petrov for the Caterham team, and HRT's Pedro de la Rosa and Narain Karthikeyan.
The weather in China improved a bit from yesterday as the rain stayed away but the moist air with the breeze from the East China Sea kept the temperatures cool. For race day, it appears that light rain is possible.
Nico Rosberg, Mercedes AMG F1 with sparks flying