Spa-Francorchamps – When you think of the famous circuit at Spa-Francorchamps the first things that come to mind are what make this track so special: the mythical Eau Rouge, the corner immediately after the start-finish straight, the ups and downs and so many other points that have made this track well-known all over the world and, perhaps, the most loved of all by the drivers and fans of Formula 1.
The second thing that comes to mind, beyond any shadow of doubt, is rain. Whatever the weather forecasts say, everyone knows that water always finds a way to be the centre of attention. When the same forecasts confirm that it will rain for the whole day, as was the case today, then there is no chance of a change of heart.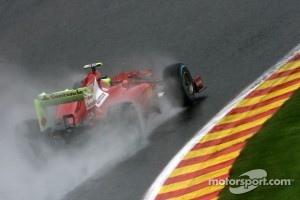 The rain began to fall last night and from that point until the end of the second session of free practice it didn't stop even for a single minute.
That meant it was necessary for all the teams to adapt their day's work programme to the track conditions.
Scuderia Ferrari chose to minimise the risks – which are always present in these kind of circumstances – limiting itself to putting in the kilometres necessary to carry out a pair of practice starts.
This morning for Felipe it wasn't even possible to achieve this target because the engine in his F2012 gave up just as he was at the final chicane before the starting grid. After his engine was changed during the gap between the two sessions, the Brazilian opted for a new practice start from his pit stop position.
That was also to reduce to the minimum the kilometres run on the extreme wet tyres which are limited by the regulations in every grand prix. Fernando stayed in the pits right up to the end, then he carried out the same programme as in the morning, leaving the pit lane only for a practice start on the starting grid.
The total of the mileage run by the two Ferrari drivers – neither of the two set a single timed lap – was thus lower than 100 kilometres. Alonso put in a total of seven laps, while Massa racked up four to amass a total of just over 77 kilometres: too little to be able to gain any kind of insight, to the extent that the Maranello press office has decided to abandon its usual press release...
Source: Scuderia Ferrari