Berthold Bouman, F1 Correspondent
Story Highlights
Another perfect victory for Vettel
Once again, it takes two to tangle
A successful inaugural Indian GP
Sebastian Vettel won the Indian Grand Prix at the Buddh International Circuit this weekend, his 11th win of the season and also a perfect victory, as the 24-year old German left the grid from pole position, was in the lead from start to finish and also scored the fastest lap of the race. "Yes boys, yes we did, new track, new challenge!" Vettel shouted over the radio after he had crossed the finish line. His team wasn't too happy about his pursuit to score the fastest lap during the race, but Vettel nevertheless took that fastest lap as well, although Team Principal Christian Horner tried to slow him down. Asked whether Vettel had informed the team he had set out to score the fastest lap as well, Horner replied: "Of course not, because he knows that we don't like it!"
And with a smile on his face admitted he had even tried to stop him, "We'd done our best to manage him by turning all the engine modes down, the KERS off; short of putting a cow on the circuit there was not a lot else we could do." But he was also confident Vettel knew what he was doing, "At the end of the day we have complete trust in him, I'm sure that he still had a margin in there. The most important thing for him is to win the race, and he knows that there are no points for fastest lap. He likes that little statistic to complete a perfect weekend."
Another trophy to add to the collection
Horner was once again impressed, "A brilliant result for the team to win the first ever Indian Grand Prix. Sebastian was inch-perfect today and drove an immaculate race with great strategy, good pit work and everything came right for him."
The race winner himself was extremely happy to win the first Indian Grand Prix ever. "It was very good race for us and I enjoyed it. I had a bit of a fight with Jenson in the distance who was always around four seconds away, but strangely he kept closing in around the pit stops. I was pushing very hard into the box, but we seemed to lose a little bit there, which we need to understand. On the circuit it was crucial to manage the tyres and make sure we had enough left at the end, but it was a very smooth race."
Vettel, total dominance and seemingly unstoppable


BBC commentator Eddie Jordan on Sunday said about Red Bull's dominance, "Whether you like it or not Sebastian Vettel has dominated the championship. It has been one of the best demonstrations of absolute dominance I can remember." And indeed, the double World Champion was again unstoppable; he had already shown his form during qualifying where he easily beat Lewis Hamilton to the pole with almost three-tenths of a second. When the lights turned to green on Sunday afternoon Vettel had a great start and made into the first corner in first position, and only had to fend off Jenson Button who had charged to second place leaving Fernando Alonso and Lewis Hamilton behind him.
Button knew he didn't have the pace to battle with Vettel, and presently is in fact the only one who seems capable of at least keeping up with Vettel's blistering pace. "In terms of team effort, we did everything right today -- our car just wasn't quite quick enough to actually win," said the second place man. Despite his rocket start he was never in a position to pose a threat to Vettel," he said.
"I got a good start, made up places on the first lap and then settled down to keep Mark behind me for five or six laps. Eventually, I think we 'broke' his rear tyres, which enabled me to establish a gap. Then I could set about Seb [Vettel] -- but it was very difficult to close him down," the 2009 World Champion said. "Still, this was a very good result for us -- and I think we delivered the maximum possible."
McLaren Team Principal Martin Whitmarsh was also a happy man, as his team has now secured the second place in the Constructors' Championship. "As a result of the 24 World Championship points that he [Hamilton] and Jenson notched up today, McLaren Mercedes has now secured second place in the 2011 Constructors' World Championship. It's always our aim to go one better than that -- to win -- and second isn't good enough, but we're pleased to have consolidated that position nonetheless," the Briton said.
Alonso takes third place


Ferrari's Fernando Alonso went home with the third place trophy in his hands, not the result he had hoped for, but given the circumstances certainly not a bad result. Alonso qualified in fourth spot, but was promoted to third after Hamilton's three-place grid penalty. During the start he ended up on the dirt on the outside of Turn 1 and lost one place to Button who had no problem taking over the Spaniard's third place and overtook Mark Webber's Red Bull as well. Alonso spent his first stint behind Webber, but didn't have the pace to get closer.
Ferrari then tried to get him ahead of the Australian during the first pit stop, but it didn't work out and Alonso was once again behind Webber. During the second round of stops on lap 39 he did get ahead of Webber, "I tried to stay close to Webber and when he slowed down a bit, I closed right up and, staying out on track a few laps longer than him, I was able to get ahead of him. Being patient paid off."
Team Principal Stefano Domenicali had mixed feelings after the race. "The result of this Grand Prix could be described as bitter sweet. On the one hand, there is the satisfaction of seeing Fernando on the podium, which given our current situation in this last run of races, represents our most realistic target," the Italian said. And added, "Once again, the Spaniard drove a great race, fighting lap after lap to bring home another trophy to add to his collection. On the other hand, there's disappointment for what happened to Felipe, who could have got a good finish, given the pace the Brazilian was demonstrating."
Once again: It takes two to tangle


Just like Red Bull's dominance seems inevitable this season, it also seems inevitable Hamilton and Massa continue their feud, and once more the pair tangled which meant the race was effectively over for both of them. It was already a bad start of the weekend on Friday for 2008 World Champion Hamilton, as he incurred a three-place grid penalty for ignoring yellow flags during practice and therefore had to start from fifth instead of second position on the grid. To add to his misery, he was a bit slow off the line and immediately was passed at the start by Massa and spent the first part of the race admiring the rear of the scarlet red Ferrari.
Lewis Hamilton, seventh place and another collision with Massa
He really didn't have the pace and could not overtake the Brazilian and even more disappointing, could not get rid of the Ferrari and after his first pit stop he was once again trailing Massa, which again added to his frustrations. He tried several times to get past, but Massa defended his line and Hamilton was stuck behind the Ferrari. Until on lap 24 Massa made a small mistake and ran wide at Turn 1, and Hamilton was this time right under the rear wing of the Ferrari. Hamilton then tried to pass him on the inside of Turn 5, but Massa slammed the door shut and the pair collided for the sixth time this season.
Both were able to continue the race, but Hamilton had to pit to replace his damaged front wing and fell back to ninth place behind the Toro Rosso of Jaime Alguersuari. The FIA Stewards investigated the incident and concluded Massa was at fault, and the Brazilian was handed a drive-through penalty. After he served his penalty he came back in for new rubber, and continued the race on the medium compound. But not much later he reported problems with his gearbox to this team, and just a lap later Massa was seen in the gravel with a broken left front suspension after he had hit one of the orange kerbs and had to abandon his race.
A hugely frustrated Massa commented, "There's not much to say at the end of a weekend like this. I am really unhappy that I was not able to finish a race in which I showed I had the pace to fight for the podium." Asked about the incident he commented, "My view is that I was in front, I braked later than him and I was in front, I was on the grippy area as well and then I started to turn and I didn't see him on the left as he was behind," said Massa, adding, "He touched my rear wheel. So, to be honest I don't understand why I have the penalty. It is not really understandable."
He was adamant he was not guilty of causing the crash, "I didn't do anything wrong. When I see he put the car on my side, I braked on the clean side and he was behind me. If he was wheel-to-wheel I would not try to close the door." Asked about why he is always involved in incidents with Hamilton he shrugged his shoulders and said, "It's the umpteenth time that Hamilton runs into me this year and it seems it's some sort of fatal attraction …"
McLaren's Whitmarsh said about the incident, "He and Felipe Massa are magnetic, they come together, but the stewards made a clear decision. It hurt Lewis, he had to come in and change tyres, his car was damaged but he had the discipline to bring it home for some points."
Hamilton had of course a different view, after the collision he reported over the team radio, "Felipe just turned in on me, he didn't give me any space!" After the race he said to the BBC, "I tried to overtake, I tried to come out of it because he didn't look like he was going to give me any space, but we collided." And yes, that is of course the big question, why overtake on the inside if one knows Massa will close the door? After similar incidents Hamilton should have known Massa still had some unfinished business, and therefore -- apart from whether who was right and who was wrong -- it was probably not a very wise decision to conduct such a move.
So what now? Hamilton said he had tried to make it up with Massa before the race after they stood next to each other during the one minute silence to honor Dan Wheldon and Marco Simoncelli. "He hasn't spoken to me since a long, long time, so I made an effort and put my arm round him and said good luck for the race," Hamilton said. But Massa denied Hamilton had apologized, "He was on my side. And then he just said have a good race. This is trying to do what? 'Have a good race' is not part of talking or whatever."
Massa and Hamilton during the 2009 Brazilian GP, those days are over now
Whitmarsh remarked both drivers are grown men, and should be able to find a solution themselves, "They are men, they've got to figure it out for themselves." And added, "A staged handshake, a conciliatory gesture outside the garage at the next Grand Prix ... you don't want that, unless it's to take the mickey out of it. They've got to sort themselves out."
Some have suggested this ongoing feud could even become dangerous, and triple World Champion Jackie Stewart called the fact they have collided in six of the 17 races 'an alarming statistic'. One thing is certain, both drivers are under extreme pressure, not just because of their collisions, but both are also expected to score points for their team. With Hamilton finishing in seventh place, he is now 38 points behind Button who is currently the favorite to take second place in the Drivers' Championship, and with Button's excellent form in mind, it will be difficult, if not impossible, for Hamilton to catch up with him.
A good result for Mercedes


Finally good race weekend for Mercedes GP, as Michael Schumacher and Nico Rosberg finished in fifth and sixth position respectively. But not a perfect weekend, during the second free practice session on Friday they ended up in 19th and 21st place on the time sheets after both drivers had several problems with their car. However, when it mattered, during Saturday's qualifying, Rosberg took seventh spot on the grid, while Schumacher ended up in 12th place -- and although not a dream performance, it was at least a good position to score points.
Schumacher started from 11th place after Vitaly Petrov lost five places on the grid due to a penalty he incurred during the Korean Grand Prix where he had T-boned Schumacher's Mercedes. Schumacher had a dream start, the seven times World Champion had advanced to eighth place after the first lap, and was right behind Rosberg until the first pit stops. "At the start, everything worked out according to my strategy as I deliberately didn't want to use KERS in the first two corners and save it for the long straight where I knew that I could make up some positions," Schumacher declared. He was on a soft-soft-medium tyre strategy, and after his first stop was still behind his team mate, who was also on the same tyre strategy.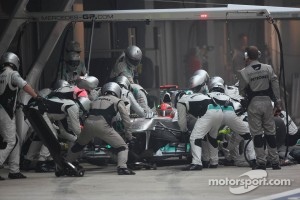 Michael Schumacher, Mercedes GP Petronas F1 Team
After the Massa/Hamilton incident they both moved up one place as Hamilton who was ahead of them had to pit and ended up in ninth place at the time. When Massa had to give up his race, both gained another position and Schumacher was then in sixth, and Rosberg in fifth position. Schumacher had been nursing his last set of softs and was able to stay out longer than Rosberg, which meant he could stay out for another five laps after Rosberg had pitted, and the strategy paid off as Schumacher was able to get ahead of him.
Rosberg about his race, "My strategy was not perfect today and I lost some time in the second pit stop which meant that I wasn't able to stay ahead of Michael." Fifth place was a good result but Schumacher stated, "What's really important at the moment is that we keep pushing and trying to improve, and that is what we achieved today."
Team Principal Ross Brawn was satisfied with the outcome, "A very solid race from the drivers and team today, and we are very pleased to have achieved fifth and sixth places." He also referred to the problems they had on Friday, "Michael, Nico and the engineers did an excellent job to focus on getting the car right for the race, and making the best use of the tyres. We certainly got everything that we could out of our current car this weekend."
Rosberg and Schumacher are currently seventh and eighth in the Drivers' Championship. Mercedes GP is fourth in the Constructors' Championship, and it is highly unlikely they will lose that place, as their next rival Lotus Renault are fifth, 73 points behind the Silver Arrows team, and can only beat them if Petrov and Bruno Senna would finish in first and second place, and Mercedes would score no more than 12 points in the two remaining races in Abu Dhabi and Brazil.
More team and driver quotes


Toro Rosso, who are now eighth in the Constructors' Championship have caught up with the number seven, Sauber. Both have 41 points and Toro Rosso could have passed the Swiss team if Sebastien Buemi would have been luckier this weekend. Buemi and Alguersuari qualified in ninth and 10th place, a good result. Especially Buemi has been under pressure to up his performance to show his team boss Franz Tost he is the right man to sign for 2012, but ran out of luck during the race.
Jaime Alguersuari, Scuderia Toro Rosso
Although both didn't have a particular good start, they were passed by Senna and Adrian Sutil while at the same time Alguersuari managed to get ahead of Buemi, they did fight their way back into the top ten. Unfortunately for Buemi the Ferrari engine in the back of his Toro Rosso overheated and when the Swiss driver was forced to park on one of the run-off areas while water was gushing from the back of his car.
Of course Buemi was bitterly disappointed, "When the car stopped, I had just passed Hamilton, I was lying eighth and I think we could have finished in the top eight. So when you go from that promising situation, to a non-finish with no points, it's a bit difficult to take." And he remarked, "Without luck, what can I do? I give everything but you're helpless against fate. I will continue to push even though I've never seen so much Scheisse [sh*t]."
Alguersuari finished in eighth place after he had been battling with Sutil and Sergio Perez and later had to defend his place from a charging Hamilton. "I am very happy with the performance of the team overall as this race was another good one for us, with a pace that was as quick as the one we had shown in Korea," the young Spaniard said, adding, "It is encouraging that we could outperform the Renaults."
Force India's Sutil crossed the finish line in ninth position after he had qualified in eighth place, while his Scottish team mate Paul di Resta finished outside the points in 13th position, altogether a somewhat disappointing result for the Indian team. They are now in sixth place in the championship, 10 points ahead of Sauber and Toro Rosso and 21 points behind Lotus Renault. Sutil, who was like most drivers on a soft-soft-medium tyre strategy, had initially some problems finding enough grip. "In the early laps I struggled with the rear of the car, with a bit of oversteer, and could not hold off the Toro Rossos who were a bit quicker today," the German said.
Di Resta tried the opposite; he started the first stint on the medium Pirellis, and switched to the softer compound during his first stop, made two more stops and finished the race on the softs. But the aggressive strategy did not pay off, "It was a gamble to get rid of the hard tyre early on, and if it had worked we would have gained a pit stop and done the race on three sets of softs, which was the quickest way."
Perez was the only Sauber driver to finish the race, as his Japanese team mate Kamui Kobayashi was already out of the race after the first corner when he was hit from behind. "I saw smoke and fire coming from my car. Obviously there was severe damage, so I had to stop and switch the car off," said Kobayashi. Perez finished in tenth position, earning one point for his team.
Lotus Renault's Petrov and Senna finished in 11th and 12th place after they had started the race from 14th and 16th place of the grid, and thus finished outside the points. Lotus Renault, who made such a superb start of the season -- Petrov finished in third place during the Australian Grand Prix while his teammate at the time Nick Heidfeld took third place during the Malaysian Grand prix -- now desperately need to score points, as Force India is getting closer and closer to take their fifth place in the Constructors' Championship.
Heikki Kovalainen, Team Lotus
Team Lotus' Heikki Kovalainen also showed his good form, he finished in 14th position ahead of Rubens Barrichello. Jarno Trulli wasn't so lucky as he got involved in the melee in the first corner. "The bad luck struck again. I had a pretty good start but then one of the HRT's hit me from behind as we came out of Turn 3 and that was basically the end of my race. I had a puncture and had to do almost a full lap to get me back to the pit, so from that position there wasn't anything I could do," the Italian said.
And speaking of HRT, Narain Karthikeyan, the only Indian driver in the race, wrote history and when he crossed the finish line and became the only Indian to participate -- and to finish -- the first Indian Grand Prix ever. Although he had incurred a three-place grid penalty he finished in 17th place and he commented, "I had a great Grand Prix and I really enjoyed myself, it was an amazing experience. To finish 17th in my home Grand Prix is the best I could have wished for with the car we have and beating my teammate and one Lotus on the way makes it all the more satisfying." And indeed, for all involved the inaugural Indian Grand Prix was a huge success, and many drivers are already looking forward to return to the Buddh International Circuit.
A successful inaugural Indian GP


The Indian Grand Prix was a success in more than one way, the new circuit was perfect despite the doubts ahead of the venue, most drivers were very enthusiastic about the track lay-out and hailed the by Hermann Tilke designed Buddh International Circuit as a true drivers' circuit, as it poses many interesting challenges. Also a new experience was India itself, the mysterious and intriguing Indian peninsula with its 1.2 billion inhabitants and a booming economy, but still a country that is ruled by many religious traditions. A colorful country that made a deep impression on many and a country where they soon hope to return to.
Vettel was impressed with the Indian way of life
Especially Vettel was enthralled by the Indian culture, "It's a very impressive country here, very different to what we know in Europe, but very inspiring. If you keep your eyes and ears open, you can learn a lot from the way the people handle things here. It's a big country with a lot of people, but they are happy and enjoy life, which is what it's all about. At the end of your life, it's friendships, emotions and thoughts that you take with you, rather than what's in your bank account. So, even though people don't have a lot here, they are a lot richer in many ways and we can learn from that. It's been a great race, a great event and the circuit is fantastic, so thanks a lot to all the people in India."
Button also hailed the venue, "The Indian people have really welcomed us to their country; I've never seen so many people smiling before. And the crowd has been wonderful! I hope that Formula One grows in India in the future and that we get an even bigger crowd here next year!" And he predicted, "I think it will turn out to be one of the great events on the Formula One calendar."
According to the organizers some 95,000 people attended the venue, and therefore FOM CEO Bernie Ecclestone was extremely satisfied and praised drivers and organizers alike. "Formula One is as popular in India as cricket in France but things will improve drastically in the years to come," he started his comment with. "I'm very, very happy with it, and everybody else is as well. We've nothing to complain about." Referring to the circuit itself he stated, "There are bits and pieces they can do, but this is a prototype, so I'm sure they'll get down and have a good look at everything."
India welcomes Formula One
And McLaren boss Whitmarsh said to reporters, "I think the response from the people here in India has been great. I believe this will be a successful event." And he added, "You sense it in Delhi, you sense it in the people and there is a sporting passion here ... I think they've embraced it [Formula One] and we've got to work with them and I'm sure we can build it up."
Mercedes Motor Sport Director Norbert Haug was also impressed, "This inaugural Indian Grand Prix was a remarkable event. This is a fantastic and challenging race track, and saw packed grandstands and great enthusiasm from the fans. Formula One could not have wished for more during the first race in a new country. So a big thank you to the organisers, the Jaypee Group, and to Bernie Ecclestone and FOM, who have worked very hard to make this new event happen."
Next race is the Abu Dhabi Grand Prix, two weeks from now. Also an impressive circuit with equally impressive architecture, but an altogether different country and culture. A street circuit like Monaco, where drivers will gear up for the penultimate round of the 2011 Formula One World Championship.
Indian Grand Prix Full Results