Toro Rosso press release
Jaime Alguersuari


"This was my best ever performance and the best for the team this year. I think I have to be very happy with this and also because my team-mate came very close to Q3, which shows we have done a good job, not just on the car but in the way we managed the session, being the first out of the pits to get a clear track.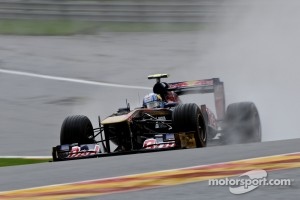 Jaime Alguersuari, Scuderia Toro Rosso
The weather helped, because the car worked very well on the intermediates and the extreme wets, but we have also been quick in dry conditions. We knew we had a better car here than in Hungary and we have learned a lot about it so far this weekend. Certainly the DRS is now working better than ever before. Hopefully tomorrow I can do a good job again and score some more points and I believe we have a good chance of doing that, if we stay calm, because our car has a good pace. The start from the third row will be very important and maybe tricky and I hope it stays dry."
Sebastien Buemi


"It was not easy this afternoon, because the track dried very quickly after the rain actually stopped falling. Therefore you had to get a good lap at just the right time. I managed to do that right up until the end, when I made a small mistake.
Sebastien Buemi, Scuderia Toro Rosso
I am a bit angry with myself for that, but eleventh is still a good place to start the race tomorrow. I think we have opted for a good compromise in terms of car settings for the race. In any case, the team seems to have made a lot of progress in performance terms so I hope this translates into a good race, because it's tomorrow that the points are given out."
Giorgio Ascanelli


"This is Jaime's best ever qualifying. Our good result with both cars is down to the work we have done so far this weekend, although we have to accept that both Force Indias and Schumacher might have been expected to be ahead of us.
We have been slightly better than Sauber in both the dry and the wet
However, it is also true to say our drivers did not make any major mistakes so the result is well deserved. I am sorry for Sebastien whose only error up until now came on the lap that mattered in Q2: otherwise he could have been tenth and been able to fight in Q3. The clearest indication that our car has improved, through various updates we have introduced here, is the fact we have been slightly better than Sauber in both the dry and the wet. For the first time this season, we have seen progress with our DRS and that is down to the work of the aero team on developing this aspect of the car. As for the race, we are experimenting with two very different trims on the cars. It could be a confusing race and we must try and avoid making mistakes to capitalise on our good grid positions. I want to express my sympathy for Michael, a friend and a legend, because he will have a tough time celebrating his twentieth anniversary tomorrow. Secondly, well done to Bruno Senna: seeing a yellow helmet in a black and gold car at Spa is…"
JAIME ALGUERSUARI
(STR6-02)
FP3: Best lap 2.09.931, pos. 3rdth, 16 laps
Qualifying Best lap: (Q1) 2.05.419; (Q2) 2.04.561; (Q3) 1.50.773
Pos. 6th

SEBASTIEN BUEMI
(STR6-03)
FP3: Best lap 2.10.580, pos. 6th, 15 laps
Qualifying Best lap: (Q1) 2.04.744; (Q2) 2.04.692
Pos. 11th