Berthold Bouman, F1 Correspondent
The Marina Bay Street Circuit at Singapore will host round 14 of the 2011 FIA (Federation Internationale de L'Automobile) Formula One World Championship this weekend. The street circuit has a mix of slow and fast corners and a few straights and has been compared with Monaco, albeit the Singapore Grand Prix is a real night race and the hot and humid Asian climate poses many challenges for drivers and teams, who already have to battle the time difference and a fair amount of jetlag as well. However, being a night race allows teams to remain on European time, despite the six hours time difference.
The Marina Bay Street Circuit
The circuit will be well-lit by 1500 light projectors powered by 20 generators, each emitting some 3,000 lux and mounted 10 meters above the track, and 108,000 meters of cable are needed to connect and power the projectors. The first Singapore Grand Prix was won by Fernando Alonso for Renault in 2008, but his win has become very controversial after his team colleague Nelson A. Piquet in 2009 admitted he had deliberately crashed his car on the bridge section of the circuit to provoke a safety car period. McLaren's Lewis Hamilton won the race in 2009, and Alonso won the race again last year for his then new employer Ferrari.


Vettel can clinch the title this weekend


It is by now impossible to ignore the huge points difference in the Drivers' Championship, Sebastian Vettel is still leading the title chase 112 points ahead of Alonso who has 172 points, Jenson Button and Mark Webber share third place with 167 points each, 107 points behind the leader. Last man who theoretically can clinch the title is Hamilton who is 126 points behind Vettel.
German Vettel is certainly not convinced the title is his already and still refuses to talk about what would be his second Formula One title. His Red Bull team has said Vettel will receive his championship winning car 'Kinky Kylie' as a gift when he wins the title but Vettel commented, "I am not thinking about that because I haven't won anything yet." More convinced is team owner Dietrich Mateschitz, "We anticipate that, once again, we will achieve both of the titles this year." Mateschitz is still very impressed with his star driver. "The fact that Sebastian is highly capable, we knew," said Mateschitz. "That he would be able to deliver it so consistently over a long time has surprised many people."
But back to the race again, Vettel certainly loves the circuit and is confident he will perform well, "We've had some good races in Singapore in the past, especially last year when we finished second, just behind Fernando. I love the track, it's very challenging; there are a lot of corners, it's very long, it's hot and it's a night race, so there are a lot of special things about Singapore." About the championship the 24-year old said, "Looking to the championship, there is still some way to go. We are in a very strong position, which we deserve because we've been working hard and made few mistakes. As long as we come out of the next race with a bigger lead then we start with, then we have done a good job, so let's see."
Will Vettel clinch the title at Singapore?
According to Webber the race is a real challenge, "The track's bumpy and although the 1500-odd lights do a good job at illuminating the circuit, it's not like racing in daylight and that makes it tiring. It's also the longest race of the year, running close to the two-hour time-limit set by the FIA, and the intense heat and humidity makes it pretty warm in the cockpit."
Vettel can clinch the title if he wins the race and Alonso doesn't crosses the finish line higher than fourth and third placed Button and Webber finish third or lower. If Vettel wins the race, Hamilton is out for this year's title, even if he crosses the finish line in second place. Hamilton therefore has to win this race to keep his championship hopes alive, not to mention the fact he then has to win the remaining five races as well.
If Vettel is second, then Alonso has to finish eighth or lower, and Button and Webber fifth or lower, and Hamilton second or lower. If Vettel finishes third, Button and Webber have to finish eighth or lower, and Hamilton third or lower.
McLaren going for the victory


For the other two top teams McLaren and Ferrari there is realistically speaking not much hope to win the Drivers' Championship, and therefore winning as many races as possible is the only option left for them. McLaren team principal Martin Whitmarsh is aiming for a win, "Given our current form, I'm positive that Singapore will be another strong race for us. I've been really satisfied with the pace of the car and the efforts of the team. Nevertheless, winning is what we're all about and that's what we'll definitely be aiming for this weekend."
Button is upbeat ahead of the race and hopes for a strong performance. "This is one of the races I'd most love to win and I'm hopeful that we'll be able to show the same sort of pace that we showed at Monaco and Hungary, where I had two of my best drives of the year," the 2009 champion declared. "Given our current form, I'm positive that Singapore will be another strong race for us. I've been really satisfied with the pace of the car and the efforts of the team," he added.
But he is also worried as the race almost lasts two hours and reckons this is too much for drivers. "We find it very tough and after the race you are shattered, in pieces," he said to the Daily Star. "It's one of the races we actually think is a little too long, that they need to maybe shorten. At the end of the race all the drivers sit in their cars for a few moments before getting out. If you get out too quickly, you feel light-headed and dizzy."
Hamilton has lost a lot of ground during the past five races and is now fifth in the championship, but is a fan of the circuit. "I love street circuits and I really enjoy this place - it's almost two tracks in one: there are quite a few fast corners, which require good set-up and a bit of commitment, but there are also lots of tighter 90-degree bends, which are slower and more technical. You've got to keep it precise through these and just be patient, waiting for the tyres to bite before getting on the throttle. If you're impatient, then you end up losing time because you over-stress the tyres and you over-drive the car." And about winning the championship he said, "Even though the title is now almost out of reach I'll be pushing hard for the best possible result. I will never give up and I'll be driving to win as always!"
Ferrari also poised to grab victory


Alonso still has a chance to win the title, but knows it will be difficult if not impossible to beat the fast Red Bulls. Like other drivers, Alonso has to change his normal routines at Singapore, "You go to sleep very late, you wake up at lunchtime and then you race at night. This changes a bit the approach, as in Singapore, there's more adrenaline, it's a wonderful race." Alonso also thinks his chances for the title are over, "It is the same in all sports; you cannot win every race or match you play. Our performance this year is not something we are happy with, winning just one Grand Prix so far." The only thing left to do is go for the win the Spaniard said, "Our approach is that we try to attack, we try to be aggressive, in strategies and at the starts and try to win races."
Felipe Massa has had not much luck at Singapore; he started the race in 2008 from pole position, but finished in 13th place after the safety car had ruined his chances. In 2009 he was still recovering from his accident in Hungary, and last year was an all time low for the Brazilian as he had to start form the back of the grid after failing to put a timed lap on the clock during qualifying, he nevertheless fought his way back up the field and finished in seventh place. "I hope it will definitely be better than how it was the last races," he said. "For sure we don't have really many things new on the car, but it is a different track so I hope we can see a more competitive car," he added.
Ferrari will bring a few aerodynamic updates to Singapore, they were already planned before the design team announced they would only work on the 2012 car, they have a modified front wing which should help to get the maximum downforce they need for this circuit.
Schumacher on the limit at Monza
Schumacher unfazed by Monza critics


Although Michael Schumacher recorded his best season performance at Monza two weeks ago when he crossed the finish line in fifth place, he was once again criticized for his driving style. Schumacher got into a thrilling fight with Hamilton and managed to keep the Briton behind him for the major part of the race, even using his KERS and DRS was not sufficient enough for Hamilton to get past the Mercedes. At the Curva Grande Schumacher pushed Hamilton onto the grass, and although he was not penalized for that particular action, many condemned the German's modus operandi. Whitmarsh labeled the move as 'pretty harsh' and said, "I think the one where he had Lewis on the grass was a scary as hell."
Webber mentioned Schumacher was pushing the limits, but his team and even the highest Mercedes boss Dieter Zetsche defended Schumacher's driving. The German himself was adamant he hadn't done anything wrong, "I felt I did exactly what I was supposed to do and as far as I understand there was no request for me to see the stewards so I guess everything is in order." Monza Stewart Derek Daly later admitted they had missed the incident because they were at the same time investigating another incident involving Massa and Jarno Trulli. "When I looked at it again at home, I believe that Schumacher should have been given a drive-though penalty. He was warned repeatedly and this style of driving is not what you want the future generation of drivers to perfect," the Irishman said.
But, back to Singapore, it will be the second night race for the seven-time world champion, "I really enjoyed my first experience of Formula One night racing in Singapore last year and it was an interesting weekend to be working on such a different time schedule. Surprisingly, it worked out very well and somehow it was even fun to drive and have meetings in the middle of the night." The German also likes the circuit, "The street circuit is good fun and quite challenging, and as an event for the fans, it is also fantastic as they can get so close to the cars around the city streets and see a real racing spectacle."
His team colleague Nico Rosberg certainly hopes to do better than at Monza, where he was T-boned by Vitantonio Liuzzi and had to give up his race at the first corner. "I finished second at the first race held here in 2008 so I have some good memories from that weekend. Singapore is a fantastic city and I always try to spend some extra time here with friends after the race," Rosberg stated. "We've made a good step forward with the car in the last few races and I hope we can take advantage of that again next weekend in Singapore," Rosberg ended his comment.
Team principal Ross Braw about the technical challenges the circuit poses, "The Singapore street circuit is very narrow with many first and second gear corners resulting in a low average speed and requiring a high-downforce aerodynamic package." Mercedes boss Norbert Haug agreed and added, "It is the toughest of the season for the brakes and gearbox. In the final sector alone, the drivers must negotiate 10 corners in the space of 1,500 meters and there is very little margin for error on such a twisty and bumpy street circuit."
Marina Bay Street Circuit - Singapore

| Marina Bay Circuit | Singapore |
| --- | --- |
| Circuit length | 5.073 km |
| Direction | Anti-clockwise |
| Corners | 23 turns, 14 left, 9 right |
| Longest straight | 500 m |
| Total number of race laps | 61 |
| Total race distance | 309.316 km |
| Average lap speed | 170 km/h |
| Estimated top speed | 298 km/h |
| Tyre wear | Medium |
| Tyre compounds | Prime: Soft (yellow) - Option: Super Soft (red) |
| Brake wear | High |
| Down force level | High |
| Lap record | Kimi Raikkonen - Ferrari - 1:45.599 (2008) |
| 2010 Pole Position | Fernando Alonso - Ferrari - 1m45.390 |
| 2010 Race Winner | Fernando Alonso - Ferrari - 1h57m53.579 |
| Speed limits in the pit lane | 60 km/h during practice, qualifying and the race |
| FIA Stewards | Heinz-Harald Frentzen (D), Gert Ennser (D), Radovan Novak (CZ) |
| Speed limits in the pit lane | 60 km/h during practice, qualifying and race |
Marina Bay Street Circuit, Singapore - three-day weather forecast

| Day | Forecast | Min Temperature | Max Temperature |
| --- | --- | --- | --- |
| Friday | Light rain showers, cloudy, hot an humid | 27C | 30C |
| Saturday | Light rain showers, hot and humid | 26C | 31C |
| Sunday | Light rain showers, hot and humid | 27C | 30C |
Pirelli tyre report


Pirelli will bring the Soft (prime, yellow marked) and Super Soft (option, red marked) rubber compounds to Singapore, a very demanding circuit for the tyres. The same tyre compounds were used for Monaco, but what is really different at Singapore is that the race is started in hot conditions with temperatures exceeding 28C and as the race progresses it gets colder, rather than warmer. Also the many sharp corners which require hard braking are very demanding for the tyres, the tyre wear is classified as 'medium'. The circuit also demands high downforce, again stressing the tyres to the limit.
Soft and Super Soft tyres for Singapore
Pirelli's Motorsport Director Paul Hembery, "Singapore is a race that adds a unique and truly spectacular new dimension to the Formula One calendar. Because it is such a specific event, this makes it quite hard for teams to arrive at the best set-up and you often see some quite different solutions." Singapore will be a tough race for the tyres Hembery thinks, "Our tyres have to work equally effectively within a wide range of parameters, and this is one of the biggest challenges for us over the course of the year. A lot is made of the heat in Singapore, but what people tend to feel is actually the humidity, which means that our tyres should be comfortably within their working range when it comes to ambient and track temperature."
Tyre strategies will be important according to Hembery and he therefore commented, "The combination of soft and supersoft tyres provides plenty of opportunities for the teams to put in place some interesting strategies, with the supersoft in particular expected to provide an appreciable performance advantage. The free practice sessions in Singapore will be crucial, as the teams assess the effect of each of our tyres on their set-ups and overall speed."
DRS Setup


The FIA have announced the DRS (Drag Reduction System) setup for the Singapore Grand Prix. Again there will be just one single DRS zone, the detection zone, where a driver must be within one second of the car he wants to overtake, starts at Turn 4. The activation zone, where a driver can deploy the system, starts just after Turn 5 and ends when the driver hits the brakes just ahead of Turn 7.
More team and drivers' quotes


Another interesting battle is going on midfield, where Renault and Mercedes are battling for fourth and fifth place in the Constructors' Championship, and Force India, Sauber and Toro Rosso are battling for sixth to eighth position. Mercedes and Lotus Renault are separated by 38 points, and it will therefore be no surprise Lotus Renault is very keen to beat a mighty manufacturer team like Mercedes.
Lotus Renault's James Allison however, thinks it will not be easy for Bruno Senna who has taken Nick Heidfeld's seat, to adapt quickly to the R31, "Under the current Formula One rules Bruno has had no meaningful chance to get up to speed in the car away from the pressures of the GP weekend." But he was impressed by his achievements during the past two races, "He had just one session in the R31 pre-season, and he has impressed all of us with the way that he has seized his opportunity first at Spa and again at Monza."
Bruno Senna, Lotus Renault GP
Vitaly Petrov also likes street circuits, but is also aware of the problems Singapore poses, "I like tracks that require maximum concentration and where you cannot afford to make any mistakes. It goes without saying that it's not an easy track; the traction is very important, which is something that has plagued us in the past. However, we are confident of improving on this by ensuring a good set-up for qualifying. The track consists of 23 very demanding corners but I'm looking forward to returning there and trying to improve on my performance from last year."
Force India team owner Vijay Mallya is satisfied after a few good races the team recently had. "The technical direction we all agreed on at the factory was to build a car for all circuits. This year's car probably has more downforce than ever before and therefore less straight-line speed. However we went well at Spa and Monza, and now we're going to tracks that require more downforce, which we have. So we're looking to continue this good performance for the remainder of the year," the Indian said.
Adrian Sutil wants his team to stay ahead of Sauber, "We overtook Sauber in the championship, which is good, and we need to build on that and get some breathing space." Sutil also thinks Singapore will suit his car, "It's the opposite of how it was before: we are now more competitive on [high] downforce circuits, so we should be quite strong. With a good strategy I think anything is possible there."
Paul di Resta has an interesting weekend ahead, as he has never driven on this circuit, and asked how he did prepare himself he replied: "Just the usual stuff really, working on the simulator and looking at on-board videos. I was there last year watching and walked the track, so I know the layout. But it's true that Singapore is probably going to be one of the more difficult tracks to get up to speed on because it's such a long lap. Also, with any street circuit you need to build up your confidence over the weekend."
Sauber is currently just one point behind Force India and are keen to get ahead of the Indian team again. Sauber's James Key explains the technical challenges of Singapore, "It's a long and windy high downforce street circuit, which is typically quite bumpy. It needs good mechanical grip. Traction levels and braking stability are important as well. It's a hard circuit for the brakes. We'll be running a high downforce configuration, and we will be working on the mechanical grip."
Kamui Kobayashi, Sauber F1 Team
Kamui Kobayashi has mixed feelings when he reflects on his 2010 Singapore Grand Prix, "Last year we were quite competitive in Singapore. I made it into Q3, which is a nice memory - very different, of course, to the outcome of the race when I was lying ninth, but made a mistake when the tyres were quite worn and crashed."
Sergio Perez is another rookie who hasn't had a taste of Singapore before and also understands the need to take back sixth position again. "We obviously need to score points to get back our sixth position in the World Championship. I have done some night racing in Qatar when I was in GP2. It is a very special feeling if you live at night and it can also be fun," the Mexican said.
Toro Rosso is seven and six points behind Force India and Sauber respectively, while Williams has only scored five points this season, the worst season result ever for the Grove-based team. Rubens Barrichello who has experienced a bumpy ride with Williams this year, "I love Singapore and I think the night race has been a great success. I don't really have a favorite corner as all of them are very challenging. Turn 4, for example, is a medium speed corner with some bumps on the way in that makes you double your attention but you can gain a lot of time there."
Pastor Maldonado is new to the circuit as well, as is HRT's Daniel Ricciardo. "I haven't raced at the Marina Bay Street Circuit before, although I was there last year as a reserve driver. But I've spent some time on the simulator and it looks like an interesting and fun circuit with a lot of corners. It's quite a confusing track but should be fun," the Australian said.
Time Glock celebrated 2nd place in 2009
And the last rookie who really hasn't had much experience at Singapore is Marussia Virgin's Jerome d'Ambrosio. "I have very good memories from Singapore - this time last year the team gave me the chance to jump into the car on Friday for the first time. It was a very special moment - a key moment in my career. One year later I return to Singapore as a Formula One driver and having learned an incredible amount in a very short space of time."
Another extraordinary fact is that Marussia Virgin's Timo Glock has finished this race in second place for Toyota in 2009, and he can't wait to get in the car again. "The Singapore Grand Prix is clearly one of the highlights of the year and my favorite track on the calendar. It really is an amazing experience and I just can't wait to get in the car and drive through the streets of Singapore at night again. It's great fun!" the German stated.
A hazy Singapore Grand Prix?


There have been some concerns about the visibility on the Singapore circuit, as forest fires in Indonesia have caused a haze that could have an effect on the visibility as the tiny dust particles will light up under the floodlights. But the circuit's Technical Director Lawrence Foo dismissed the haze could cause visibility problems. "I have noticed it, but out in the open, it's not too bad. We don't expect any problems," he said.
Weather forecasts also predict rain, and it has indeed rained the past few days in Singapore, the concerns are the same, the rain drops will light up and puddles of water could reflect the floodlights and blind the drivers. "There's a regulation that says that if we can't see a certain distance, then we don't race," Button said ahead of the race. The high humidity also means the track will dry out very slow if hit by a rain shower, but as the weather is always an unknown factor, drivers and the FIA will have to wait and see if it will indeed rain during the practice sessions, qualifying or the race, and if so, whether it will pose any particular problems - all they can do now is guess.
Who to watch this weekend?


Compared to Monza, Singapore is literally like the difference between day and night, and the hot humid conditions makes life very difficult for any driver. Of course one of the most interesting questions will be whether Vettel will already be able to secure the title this weekend, if he does he can relax during the remaining five races, and judging by the fact Red Bull has so far totally dominated both qualifying and the race since the start of the season, it could well be Vettel will cruise to another victory and goes home with the World Championship's trophy on Sunday. Many believe it would kill the suspense of the championship, but having said that, there is really not much suspense left as Vettel leads the championship 112 points ahead of his nearest rival and many drivers have already admitted it is by now far too late for a final attack for the title.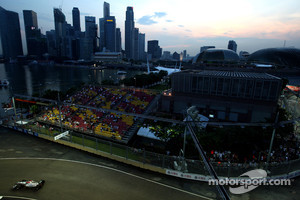 Hot and humid race expected
For Hamilton it will be his last chance to theoretically stay in contention for the title, if he makes mistakes or loses his head as he has done in the past - which ultimately resulted in a number of crashes, it will be all over for him. As it is increasingly more likely Vettel will win this year's title, the battle for second place will be an interesting one, as the numbers two and five, Alonso and Hamilton are only separated by 14 points. The battle for the championship might be over, but the championship itself will only be over when the last car crosses the finish line at the Brazilian Interlagos circuit on November 27.
Until then, there is plenty to fight for, and as we have seen all season, Formula One has provided spectators with plenty of excitement, despite the fact one team and one driver in particular has dominated the 2011 season. Stay tuned for all the latest Formula One news on Motorsport.com this weekend.