Here are full times from all four days of the second Barcelona pre-season Formula 1 test, plus team-by-team and engine manufacturer mileage stats.
The final pre-season test concluded on Friday, with Kimi Raikkonen's time from Thursday on ultrasofts being the fastest of the week by a slim margin from Sebastian Vettel's Friday benchmark.
But Nico Rosberg's time on soft tyres on Tuesday wasn't far behind, and is potentially an ominous indicator of what Mercedes could have achieved had it opted to try out the supersoft and ultrasoft compounds.
Carlos Sainz also showed impressive raw pace from Toro Rosso on Friday, while Williams driver Felipe Massa also posted a strong time on soft rubber on Thursday.
Here are the best times and tyres from the second Barcelona test:
| Pos. | Driver | Team | Day 1 | Day 2 | Day 3 | Day 4 | Laps | Tyre |
| --- | --- | --- | --- | --- | --- | --- | --- | --- |
| 1. | K.Raikkonen | | 1.24.836 |   | 1.22.765  |   | 208 | U-soft |
| 2. | S.Vettel | |   | 1.24.611 |   | 1.22.852 | 293 | S-soft |
| 3. | N.Rosberg | Mercedes | 1.23.022 | 1.26.298  | 1.24.126 | 1.26.140 | 324 | Soft |
| 4. | C.Sainz | Toro Rosso |   | 1.25.300  |   | 1.23.134 | 296 | U-soft |
| 5. | F.Massa | Williams |   |   | 1.23.193  | 1.23.644 | 248 | Soft |
| 6. | V.Bottas | Williams | 1.23.229 | 1.23.261 |   |   | 231 | U-soft |
| 7. | N.Hulkenberg | Force India | 1.25.336 |   | 1.23.251 |   | 258 | U-soft  |
| 8. | M.Verstappen | Toro Rosso | 1.25.176 |   | 1.23.382  |   | 303 | U-soft  |
| 9. | L.Hamilton | Mercedes | 1.25.051 | 1.23.622 | 1.26.488 | 1.24.133 | 295 | Soft  |
| 10. | S.Perez | Force India |   | 1.25.593  |   | 1.23.721 | 188 | S-soft |
| 11. | K.Magnussen | Renault | 1.25.760 | 1.23.933 |   |   | 245 | S-soft |
| 12. | D.Ricciardo | |   | 1.25.235  |   | 1.24.427 | 258 | Soft  |
| 13. | J.Button | |   | 1.25.183  |   | 1.24.714 | 240 | U-soft  |
| 14. | F.Alonso | | 1.24.735 |   | 1.24.870  |   | 211 | Soft  |
| 15. | F.Nasr | Sauber | 1.25.493 |   | 1.24.760 |   | 219 | Soft  |
| 16. | J.Palmer | Renault |   |   | 1.26.224 | 1.24.859 | 187 | Soft  |
| 17. | P.Wehrlein | Manor |   | 1.27.064 | 1.24.913  |   | 127 | U-soft  |
| 18. | M.Ericsson | Sauber |   | 1.27.487  |   | 1.25.031 | 185 | Soft  |
| 19. | D.Kvyat | | 1.25.049 |   | 1.25.141 |   | 190 | Soft  |
| 20. | R.Grosjean | Haas |   |   | 1.27.196 | 1.25.255 | 143 | Soft  |
| 21. | E.Gutierrez | Haas | 1.26.661 | no time |   | 1.25.422 | 48 | S-soft |
| 22. | R.Haryanto | Manor | 1.27.625 |   |   | 1.25.899 | 103 | U-soft |
Mileage stats
Here's a look at how many laps each team managed during the second week, with Mercedes' huge first-week advantage being dramatically reduced by Toro Rosso's hefty lap count, and newcomer Haas falling further behind amid numerous technical issues: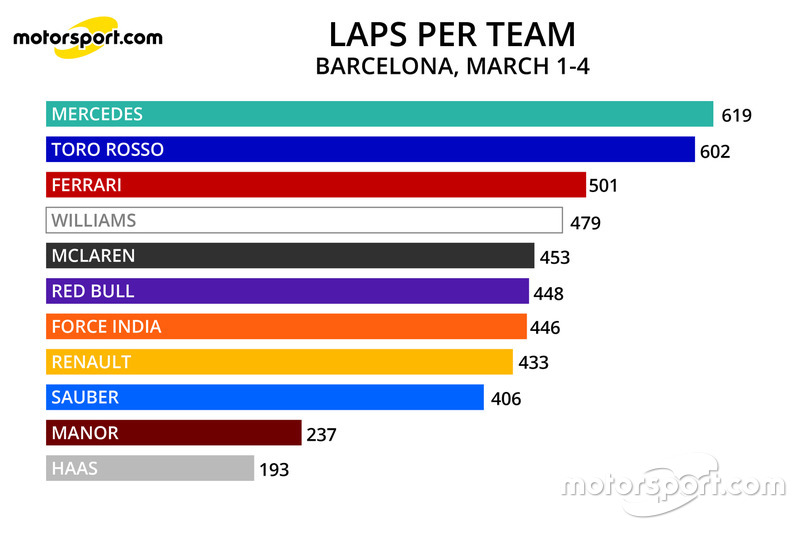 And finally, here's a look at the mileage each engine manufacturer managed, with Mercedes once again ahead, but not by the same commanding margin seen last week: